Alison Hoens is the Physical Therapy Knowledge Broker (PT KB). This position is jointly funded by several partner organization (The UBC Department of Physical Therapy, The Physiotherapy Association of British Columbia, Vancouver Coastal Health Research Institute, Providence Health Care Research Institute).

**Note: Alison Hoens, has been seconded to the KT Methods Cluster of the BC SPOR SUPPORT Unit (bcsupportunit.ca) until January 2019.  We are currently working to backfill this position. If you have any immediate questions please contact our Research Grants Facilitator, Brenda Wessel at 604-822-7408 or Brenda.wessel@ubc.ca
What is Knowledge Translation?
The Canadian Inst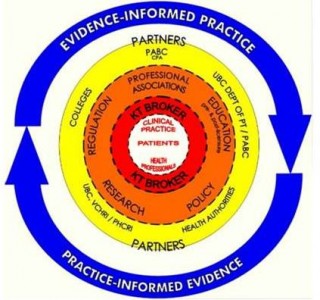 itute of Health Research defines Knowledge Translation (KT) as the exchange, synthesis and ethically-sound application of researcher findings within a complex system of relationships among researchers and knowledge users.  KT is critical in to reduce the gap between what is 'known' from research and what is 'done' in practice and to enhance the involvement of clinical practice in the research process. Consequently the PT KB role aims to facilitate both evidence-informed practice and practice-informed evidence.
Key objectives of the PT KB include:
To build awareness of KT opportunities in the BC PT community
To engage stakeholders (eg. clinicians, opinion leaders, researchers, administrators, professional organizations) in collaboration to enhance knowledge translation.
To develop resources and capacity for 'evidence-informed' decision making
To incorporate evaluation to ensure accountability
 Publications:
Allison M. Ezzat, Amy Schneeberga, Elise S. Huisman,Lynita D. White, Carol Kennedy, Lenerdene A. Levesquef,Alex Scott & Alison M. Hoens. A cross-sectional evaluation examining the use of the Achilles tendinopathy toolkit by physiotherapists in British Columbia, Canada. Taylor & Francis Online Disability and Rehabilitation. DOI10.3109/09638288.2016.1160447
Glegg S, Hoens AM. Role domains of knowledge brokering: A model for the healthcare setting. Journal of Neurologic Physical Therapy. 2016;40: 115–123.
Dean E, Greig A, Murphy S, Roots R, Nemhard N, Rankin A, Bainbridge L, Anthony J, Hoens AM, Garland J. Raising the Priority of Lifestyle-related Non-communicable Diseases in Physical Therapy Curricula. Physical Therapy. Epub ahead of print Dec 17.
Barber CE, Marshall D, Alvarez N, Mancini GBJ, Lacaille D, Keeling S, Avina-Zubieta JA, Khodyakov, Marshall D, Barnaby C, Faris P, Smith A, Noormohamed,R, Fans P, Smith A, , Hazelwood G, Martin LO, Esdaile J, and The Quality Indicator International Panel. Development of Cardiovascular Quality Indicators (QIs) for Rheumatoid Arthritis (RA): Results from an International Expert Panel Using a Novel Online Process. The Journal of Rheumatology. 2015;42;1548-1555.
Camp PG, Reid WD, Chung F, Kirkham A, Brooks D, Goodridge D, Marciniuk DD, Hoens, AM. A Clinical Decision-Making Tool for Safe and Effective Prescription of Exercise in Acute Exacerbation of Chronic Lung Disease: Results from an Interdisciplinary Delphi Survey and Focus Groups. Physical Therapy. In press.
Lam M, Tatla S, Lohse K, Hoens AM, Miller K, Holsti L, Virji-Babul N, Van der Loos M. Perceptions of Technology and its Use for Therapeutic Application for Individuals with Hemiparesis: Findings from Adult and Paediatric Focus Groups.JMIR Rehabil Assist Technol doi:10.2196/rehab.3484. In press.
Tatla S, Shirzad N, Hoens AM, Li, LC, Lohse KL, Virji-Babul N. Holsti L. Clinicians Therapists' perceptions of technology use in upper limb rehabilitation. Journal of Medical Internet Resource Journal of Biomedical and Health Informatics. In press.
Shadgan B, Pakravan AH, Hoens A, Reid WD. Effects of local cold spray on subcutaneous and intramuscular blood flow and oxygenation. Journal of Athletic Training. In press.
Bech M, Moorhen J, Cho M, Lavergne MR, Stothers K, Hoens AM. DEVICE OR ICE: The effect of consistent cooling using a device compared to intermittent cooling using an ice bag after Total Knee Arthroplasty. Physiotherapy Canada. Physiotherapy Canada 2015; 67(1), 48–55; doi:10.3138/ptc.2013-78
Hoens AM, Li LC. The Knowledge Broker's 'Fit' in the World of Knowledge Translation. Editorial. Physiotherapy Canada..2014. 66(3)' 223-4.
McAuley C, Westby MD, Hoens A, Troughton D, Field R, Duggan M, Reid WD. A survey of Physiotherapists' experience using outcome measures in total hip and knee. Physiotherapy Canada. 2014. Physiotherapy Canada..2014. 66(3)' 223-4.274-285.
Robinson J, Hoens A, Scott, A. Treatment options for tennis elbow. BC Medical Journal. 2013; 55(8), 381-393.
Hoens A, Camp PG, Reid WD. Knowledge Brokering: An Innovative Model for Supporting Evidence-Informed Practice in Respiratory Care. Canadian Respiratory Journal. Can Respir J. 2013 Jul-Aug;20(4):271-4
Camp PG, Reid WD, Yamabayashi C, Brooks D, Goodridge D, Chung, F, Marciniuk DD, Neufeld A, Hoens A. Safe and effective prescription of exercise in acute exacerbations of chronic obstructive pulmonary disease: Rationale and methods for an integrated knowledge translation study. Canadian Respiratory Journal. Can Respir J. 2013 Jul-Aug;20(4):281-4.
Scott A, Docking S, Vicenzino B, Alfredson H, Zwerver J, Lundgren K, Finlay O, Cook J, Fearon A, Purdam C, Brasher P, Hoens A, Robinson J, Danielson P. Sports and exercise-related tendinopathies: A review of selected topical issues by participants of the 2nd International Scientific Tendinopathy Symposium (ISTS) – Vancouver 2012. Br J Sports Med. 2013 Jun;47(9):536-44. doi: 10.1136/bjsports-2013-092329. Epub 2013 Apr 12
Li LC, Cott C, Jones CA, Badley EM, Davis AM, PEOPLE Meeting Participants. Improving Primary care in Chronic Musculoskeletal Conditions through Digital Media: The PEOPLE Meeting. JMIR Research Protocols. JMIR Res Protoc. 2013 Mar 8;2(1):e13. doi: 10.2196/resprot.2267
Reid WD, Yamabashi C, Goodridge D, Chung F, Hunt MA, Marciniuk DD, Brooks D, Chen YW, Hoens AM, Camp PG. Exercise prescription for hospitalized people with chronic obstructive pulmonary disease and comorbidities: a synthesis of systematic reviews. International Journal of Chronic Obstructive Pulmonary Disease. 2012:7, 297-320.
Simms AM, Li LC, Geddes EL, Brooks D, Hoens AM, Reid WD. Impact of a Behavioral-based Intervention on Inspiratory Muscle Training Prescription by a Multidisciplinary Team. The Journal of Continuing Education in the Health Professions. 2012 32(2), 116-125.
Harman, K, Bassett, R, Fenety, A, Hoens, A.  Client education:  communicative interaction between physiotherapists and clients with subacute low back pain in private practice. Physiotherapy Canada. 2011.63(2), 212-223.
Downing M, Lynd PJ, Gallagher R, Hoens A. Challenges in Understanding Functional Decline, Prognosis, and Transitions in Advanced Illness. Topics in Geriatric Rehabilitation. 2011;27(1):21-31.
Houghton P, Nussbaum E & Hoens A. Electrophysical Agents Contraindications and Precautions. An evidence-based approach to clinical decision-making in Physical Therapy. Physiotherapy Canada.2010.62(5). Special Issue.
Harman K, Bassett R, Fenety A, & Hoens A. 'I think it, but don't often write it': Barriers to charting in private practice. Physiotherapy Canada. 2010. 61(4), 252-8.
Fenety A, Bassett R, Harman K & Hoens, A. Informed consent practices of physiotherapists in the treatment of low back pain. Manual Therapy, 2009. 14, 654-660.
Harman K, Fenety A, Hoens, A, Crouse J, & Padfield, B. Physiotherapy and low back pain in the injured worker – an examination of current practice during the sub-acute phase of healing. Physiotherapy Canada. 2009; 61 (2): 88-106