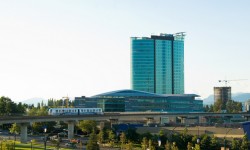 ---
Welcome message from site
Site Details
Placement Category: 
Acute
Facility Type:
Hospital
Patient population description:
Adult (19 or older) or Geriatric
Physiotherapist expertise on site (special interests, degrees, certificates, etc.):
Cardiac and telemetry unit
These types of learning opportunities may be available at this site:
Student Activities: Patient teaching regarding the disease process and best lifestyle choices for cardiac health are highly developed components of care. Cardio-pulmonary rehabilitation, acute medical unit, interdisciplinary collaboration, reporting. Usual weekly schedule is either Monday through Thursday or Tuesday through Friday.
Case Types: Mixed cardiac and internal medicine unit which accommodates patients with need for non-invasive ventilation, inotropic support, advanced cardiac monitoring, temporary transvenous pacemakers insertion and care, and treatment of acute cardiac failure. Telemetry monitoring for patients with more stable acute coronary syndromes, arrhythmias and heart failure. Negative pressure isolation bed/room.
Possible Interprofessional opportunities at this site:
---
For information on pre-placement requirements and orientation please refer to the specific health authority listing, found here.
If you need to update your current site profile please send an email with the updated information.