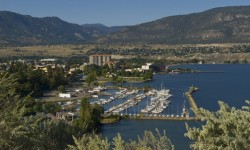 ---
Welcome message from site
Penticton is a city of ~33,000 people and is situated between two lakes. The climate is moderate with four-season recreation available. Please see www.tourismpenticton.com or www. penticton.ca for more information about the city.
Site Details
Placement Category: 
Acute
,
Outpatient
,
Rehab
Facility Type:
Hospital
Patient population description:
Physiotherapy services provided to inpatient (acute and rehab), outpatients and community populations.
Physiotherapist expertise on site (special interests, degrees, certificates, etc.):
These types of learning opportunities may be available at this site:
The rehab department has an education committee with multidisciplinary representation that holds regular inservices and educational opportunities.
Possible Interprofessional opportunities at this site:
Most placements will offer opportunity to work as part of multidisciplinary team (exception is outpatients). Scheduling of surgical viewing may be arranged if applicable to practicum.
---
For information on pre-placement requirements and orientation please refer to the specific health authority listing, found here.
If you need to update your current site profile please send an email with the updated information.