City/Town:
Williams Lake
Site Address:
Suite 301 - 19 N 1st Avenue
Williams Lake, BC V2G 4T6
Back to search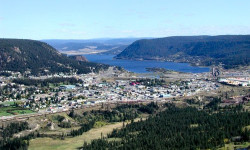 ---
Welcome message from site
Our clinic welcomes UBC Students with an interest in Orthopaedics and Sports Medicine who wish to enrich assessment and manual therapy skills. The clinic sees a varied range of patient ages and conditions. Emphasis is on orthopaedics-acute to chronic pain conditions and injuries. The clinic is well located in the centre of town. Our clinic has eight individual treatment rooms with a large well-equipped gym area. Our Physio team has more than 38 years combined experience.
Williams Lake has a population of 11,500 people and is the hub of many small outlying communities which offer services to about 50,000 people. We are situated between Kamloops and Prince George. and only a 1-hour flight from Vancouver. Williams Lake is well known for many outdoor recreational activities such as mountain biking, x-country skiing, camping and lake sports.
Site Details
Placement Category: 
Outpatient
Facility Type:
Private Practice
Patient population description:
We see a variety of patients, from all walks of life.
Physiotherapist expertise on site (special interests, degrees, certificates, etc.):
- Orthopaedic Manual Therapy and Spinal Manipulation
- Functional Dry Needling/IMS
- Concussion Rehabilitation / CCMI Accredited Clinic
- Vestibular Rehabilitation Certification
- Women's Health (pre-/post-natal, incontinence, pelvic pain, pessaries, etc.)
- Chronic Pain
- Exercise Prescription
- Post-op
- McKenzie Technique
- Dynamic taping
These types of learning opportunities may be available at this site:
- Assessment skills
- Manual Therapy skills
- Exposure to dry needling
- Patient teaching.
- Opportunity to build own caseload
- Exposure to Kinesiologist
Possible Interprofessional opportunities at this site:
---
For information on pre-placement requirements and orientation please refer to the specific health authority listing, found here.
If you need to update your current site profile please send an email with the updated information.