Site Address:
6 Hospital Road
Whitehorse, Yukon Y1A 3H7
Back to search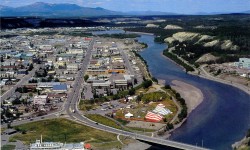 ---
Welcome message from site
Whitehorse General Hospital (WGH) is a 58-bed acute care facility located in the Yukon Territory. WGH is the largest acute care facility in the Yukon, and provides inpatient and outpatient hospital services all communities in the Yukon, as well as some in northern BC.
The Medical Rehabilitation Department at WGH employs nine PTs, three OTs, two Rehab Assistants, a clinical leader and a manager. A placement at WGH will give you the opportunity to participate in providing rehabilitation to hospital inpatients and outpatients, from every area of practice, all patient age ranges, and various cultural backgrounds.
Site Details
Placement Category: 
Acute
,
Outpatient
,
Rehab
Facility Type:
Hospital
Patient population description:
Patients of all ages with a variety of conditions.
Physiotherapist expertise on site (special interests, degrees, certificates, etc.):
- Inpatient surgical/general medical/neurological rehabilitation
- Outpatient orthopedic and neurological rehabilitation
- Thermal injuries, vestibular, concussion, pelvic floor
These types of learning opportunities may be available at this site:
- Inpatient rehabilitation across the hospital: Medical and Surgical units, Secure Medical unit, Emergency department, ICU, and Maternity
- Providing outpatient services via tele-rehab and telehealth
- Exposure to specialty areas of physiotherapy practice
- Participation in continuing education provided by staff and outside experts
Possible Interprofessional opportunities at this site:
- Collaborating with OTs, SLPs, Rehab Assistants, and other hospital allied health staff
- Working with community partners including Home Care, Regional Therapies, Continuing Care, First Nations bands health and social service departments, community health centres, and inpatient rehab hospitals
- Pre- and post-op orthopedic surgical procedures done locally by two orthopedic surgeons
- Visiting Specialists Clinic
---
For information on pre-placement requirements and orientation please refer to the specific health authority listing, found here.
If you need to update your current site profile please send an email with the updated information.