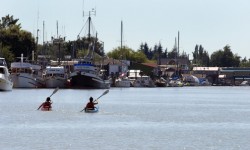 ---
Welcome message from site
Welcome students to sunny Tsawwassen. We are a bedroom community surrounded by beautiful beaches, the ocean, running trails, a dyke system, golf courses and a community that is very fit. We draw our patients from both the Tsawwassen and Ladner areas, each with a population of approximately 20,000.This is a busy clinic with a diverse clientele and great therapists. We welcome the opportunity to teach, mentor and learn from you. It is a win-win situation.
Site Details
Placement Category: 
Outpatient
Facility Type:
Private Practice
Patient population description:
We see a very wide range of ages, from 2 years to 100 years. There is a great variety of different conditions, mainly orthopaedics, sports, and some neurological conditions. Approximately 80% are private patients, with some ICBC and some WCB.
Tsawwassen is a community that really supports the physiotherapy profession and tends to be very compliant with respect to contributing to their rehabilitation.
Physiotherapist expertise on site (special interests, degrees, certificates, etc.):
Many of our therapists have their FCAMPT manual therapy designation. We do Gunn IMS, musculo-skeletal acupuncture, Shockwave, client-specific exercise programs, a wide range of electrotherapy and a lot of patient education.
These types of learning opportunities may be available at this site:
We welcome students! This is an opportunity to see and treat many different conditions in a caring and knowledgable environment. You will see acute conditions, chronic pain, and be able to teach about prevention under the guidance of experienced therapists. We are all still excited about physiotherapy and the opportunity to continually learn something new. This makes our Clinic very positive and pro-active.
Possible Interprofessional opportunities at this site:
Tsawwassen physio is a single disciplinary Clinic. We are located in a medical building with massage therapy down the hall and Pilates Studios and gyms close by. We get referrals from local GPs in Tsawwassen and Ladner.
---
For information on pre-placement requirements and orientation please refer to the specific health authority listing, found here.
If you need to update your current site profile please send an email with the updated information.