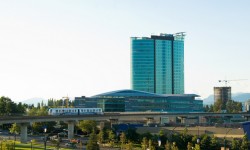 ---
Welcome message from site
Site Details
Placement Category: 
Acute
Facility Type:
Hospital
Patient population description:
All adult ages - 19 and up. High Acuity patients.
Physiotherapist expertise on site (special interests, degrees, certificates, etc.):
These types of learning opportunities may be available at this site:
Student Activities: Higher acuity patients needing ventilators, Optiflow, Airvo etc. Early intervention including chest PT, suctioning, positioning, progressing and managing non-invasive ventilation (BiPap and home ventilators), lines, advanced cardiac monitoring and drug therapies. Usual weekly schedule is 4 days on 4 days off.
Case Types: Respiratory, renal failure, diabetic ketoacidosis and liver failure patients. Patients may be stabilizing and coming out of the ICU, or they may be decompensating, and may end up going to ICU.
Possible Interprofessional opportunities at this site:
---
For information on pre-placement requirements and orientation please refer to the specific health authority listing, found here.
If you need to update your current site profile please send an email with the updated information.