Site Address:
#150-2251 No. 5 Road
Richmond, BC V6X 2S8
Back to search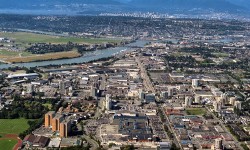 ---
Welcome message from site
Strength Through Motion (STM) is a small clinic in its 5th year of operation out of Richmond Sports and Fitness (RSF). It is in a unique position of running inside a large gym facility in which our therapists have the luxury of using for assessments and treatments. As the clinic and gym run symbiotically, clinic and gym staff members have formed close relationships, emphasizing the family-like culture at STM.
STM is located in the north Richmond, BC a few minutes away from the Knight Street bridge connecting to South Vancouver. The immediate area is surrounded mostly by warehouses but is minutes away from several shops and a short drive from central Richmond where you can find Richmond Centre, one of the Lower Mainland's largest malls. https://www.visitrichmondbc.com/
Site Details
Placement Category: 
Outpatient
Facility Type:
Private Practice
Patient population description:
At Strength Through Motion, we see a wide variety of patient populations ranging from post-surgical, to motor vehicle accidents, to amateur and professional athletes. Because we are situated within the gym facility of Richmond Sport and Fitness, many of our patients are members of the gym and often come with weight lifting or other sport-related injuries.
Physiotherapist expertise on site (special interests, degrees, certificates, etc.):
Cameron Wong, DPT from University of Melbourne in 2015. Interested in most patient populations, but in particular the everyday athlete and shoulder conditions. Received additional training in Functional Dry Needling (Level 2) through Kinetacore.
Jean Hu, MPT from University of British Columbia. Additional training: Dry Needling ( Level 1) through Foundations Education, NKT (Level 1) and is currently pursuing her Acupuncture training. She is also a Certified Strength and Conditioning Specialist through the NSCA and a Yoga instructor. Special interests in competitive bodybuilders and powerlifters.
Samuel Ngo - MPT from University of British Columbia. Additionally trained in Anatomical Acupuncture (AA1 & AA2) through Acupuncture Canada. Also certified in Vestibular Rehabilitation, and Selective Functional Movement Assessment (SFMA - Level 2). Interested in most patient populations.
These types of learning opportunities may be available at this site:
Students will have the opportunity to learn about a personalized approach to treatment in private practice as at STM, we pride ourselves in providing 1-on-1 appointments. Students will be able to participate in the assessments and treatments of different musculoskeletal conditions and be able to observe the different approach styles of our therapists.
Students will also have the opportunity to learn about the multidisciplinary team approach provided within a private clinic as our physios work closely alongside our RMTs, Chiros, and Kinesiologists.
As our physios are also trained in different styles of needling, IASTM, and hands-on techniques, students will have the opportunity to learn of these approaches to treatment.
Possible Interprofessional opportunities at this site:
Our physiotherapists work closely alongside our RMTs, Chiros, Kinesiologists, and counsellors and students will have the opportunity to speak with and learn from our other team members. Additionally, our physios often work closely with some of Richmond Sport and Fitness on-site personal trainers.
---
For information on pre-placement requirements and orientation please refer to the specific health authority listing, found here.
If you need to update your current site profile please send an email with the updated information.