Site Address:
5544 Sunshine Coast Highway
Sechelt, BC V0N3A0
Back to search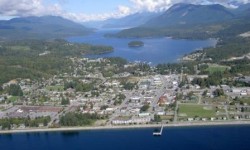 ---
Welcome message from site
This is one of Vancouver Coastal Health's many locations within BC. The Physiotherapy service that is provided here follows the organisation's guiding principle of "people first." Physiotherapists aim to provide the highest quality care to patients while creating a nurturing and supporting atmosphere for staff and students alike. We look forward to sharing our expertise and knowledge with you during your time with us.
Site Details
Placement Category: 
Acute
Facility Type:
Hospital
Patient population description:
41-bed facility that also serves the communities of Langdale, Gibsons, Roberts Creek, Halfmoon Bay, Pender Harbour and Egmont.
Physiotherapist expertise on site (special interests, degrees, certificates, etc.):
Therapists in St Mary's have very well rounded skills and are usually required to treat many different patient populations that will reside on the same unit. Skills will typically be inpatient focused.
These types of learning opportunities may be available at this site:
Learning opportunities include working in interdisciplinary setting with wide variety of caseload. Specific learning opportunities will vary depending on the ward student will be based on. All areas will include history taking, assessment, treatment, exercise prescription and progression, discharge planning and liaising with other professions.
Possible Interprofessional opportunities at this site:
OT, RN, LPN, Care Aide, RA, SW, Dietition, MD.
---
For information on pre-placement requirements and orientation please refer to the specific health authority listing, found here.
If you need to update your current site profile please send an email with the updated information.