Site Address:
Penticton Community Centre
101-325 Power Street
Penticton, BC V2A 7K9
Back to search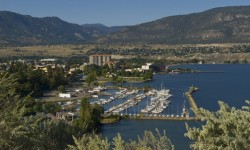 ---
Welcome message from site
We have been providing an opportunity for PT students to complete their practical requirements since 2011. The clinic staff welcome students with a supportive environment and varied experiences.
Site Details
Placement Category: 
Outpatient
Facility Type:
Private Practice
Patient population description:
This placement gives the student the opportunity to work within a private physiotherapy group that operates out of 2 significant sites. Dale Charles Physiotherapy and Sports Clinic Physiotherapy provide a wide range of physiotherapy services to the south Okanagan. There is an older demographic in the region, but clients cover all age ranges.
Physiotherapist expertise on site (special interests, degrees, certificates, etc.):
Services offered include;
orthopedic and sport injury clients
therapy services provided by a certifed hand therapist
IMS (dry needling) and acupuncture
orthotic and bracing prescription
work conditioning (OR1 WSBC provider)
pool therapy (WSBC hydrotherapy services)
vestibuar rehab
neuro rehab
FCE's
pain management education
physicians providing pain management interventions
These types of learning opportunities may be available at this site:
Students will have an opportunity to work alongside experienced manual therapists, sport therapist, hand therapist, and industrial rehab team (includes kinesiologist). Also, medical doctors providing US-guided injections for pain management, including PRP/prolotherapy.
Possible Interprofessional opportunities at this site:
Medical pain management is provided by an experienced therapist and 2 medical doctors. A kinesiologist works alongside a supervising therapist in the work conditioning program.
---
For information on pre-placement requirements and orientation please refer to the specific health authority listing, found here.
If you need to update your current site profile please send an email with the updated information.