Site Address:
311 Columbia Street
Kamloops, BC V2C 2T1
Back to search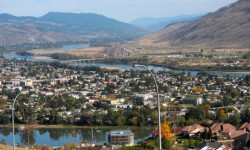 ---
Welcome message from site
Kamloops is centrally located in the province with easy access to Vancouver (4 hours away by car) & Kelowna (2 hours away by car). The city is large enough that we have all of the amenities of a larger center, but small enough that it is easy to get around. Many of the staff walk or bike to work.
In addition to having easy access to bigger centers, we have excellent access to many recreational opportunities. Hiking, skiing, biking, canoeing, golfing, swimming, paddle boarding, etc. are all minutes away. The world-renowned Sun Peaks Resort is about 30 minutes away. We also have a very strong cultural community and events such as "Music in the Park" happening nightly in the summer. Students are welcome to join staff in after hours pursuits & frequently join the staff to go mountain biking.
The staff is large enough that job opportunities are the norm due to maternity leaves, new program expansion, and other staff changes.
Site Details
Placement Category: 
Acute
,
Outpatient
,
Rehab
Facility Type:
Hospital
Patient population description:
The staff treat the wide variety of patients that would be cared for in a Tertiary Hospital setting. We see patients at all levels of acuteness & complexity from the Alternate Level of Care, to acute medical/surgical, ICU, Rehabilitation, and outpatients.
Specialized programs include an Occupational Rehabilitation Program (WorkSafe BC) with a return-to-work focus, a Hand Therapy Program, Neuro Outpatients, a Tertiary Rehabilitation Ward, and a general Outpatient program.
Physiotherapist expertise on site (special interests, degrees, certificates, etc.):
The moderately large staff of about 25 physiotherapists have expertise in many areas such as orthopedics (in & outpatients), vestibular conditions, acute complex conditions, amputees, hand patients, wounds, neurological conditions (in & outpatients), Rehabilitation.
These types of learning opportunities may be available at this site:
We are part of a Kamloops Public Practice Community so students have the option to also spend time with our colleagues in the Community and/or Residential. We have regular site educational in-services.
Possible Interprofessional opportunities at this site:
The RIH Physiotherapy Department staff are part of many teams so students will have plenty of opportunity to work with other members of a large multi-disciplinary team. We are located in the same area as the OT, SLP, & orthotics departments.
---
For information on pre-placement requirements and orientation please refer to the specific health authority listing, found here.
If you need to update your current site profile please send an email with the updated information.