City/Town:
New Westminster
Site Address:
315 McBride Boulevard
New Westminster, BC V3L 5E8
Back to search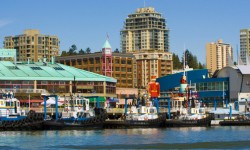 ---
Welcome message from site
Welcome!
Queens Park is a bustling hidden gem in New Westminster. On site there are a variety of different opportunities for physiotherapy students that lets you experience the full spectrum of rehabilitation within Fraser Health. Be a part of an interprofessional team that strives to provide a comphrehensive rehabilitation experience, while building relationships with both your patients and your fellow co-workers. Our small group of physiotherapists have a wealth of skills/knowledge to offer you during your placement. There are multiple opportunities to work in 1:1 or group settings and in both inpatient and outpatient fields. We're always looking to add to our team and believe that patient-centered, evidence-based treatment is of utmost importance.
Getting here is easy! New Westminster is accessible by transit or by car with lots of our staff communting from Vancouver daily. It is an emerging city for young adults, new families and professionals who are looking to make a mark!
Site Details
Placement Category: 
Chronic Disease Management
,
Community Health
,
Outpatient
,
Rehab
Facility Type:
Rehabilitation Centre
Patient population description:
Variety of patient populations including neuromuscular, stroke, TBI/ABI, amputation, orthopeadic, geriatric, multi-medical and multi-trauma within a General Rehabiliation unit, a transitional inpatient unit and a multidisciplinary outpatient program.
Physiotherapist expertise on site (special interests, degrees, certificates, etc.):
A good mix of senior physiotherapists and new grads with a variety of experience and post-graduate certifications.
These types of learning opportunities may be available at this site:
Multidisciplinary learning environment within a variety of patient settings and populations. Experience the inpatient and outpatient rehabilitation process for your patients within the public system.
Possible Interprofessional opportunities at this site:
Collaboration with Occupational Therapists, SLP, Rehabilitation Assistants, Nursing, Physicians and a Rehabiliation Physiatrist, Dietiticans and Social Workers. Opportunities to work with Rehabiliation Assistant and Occupational Therapy students.
---
For information on pre-placement requirements and orientation please refer to the specific health authority listing, found here.
If you need to update your current site profile please send an email with the updated information.