Site Address:
240 North MacKenzie Avenue
Williams Lake, BC V2G 1N6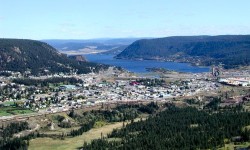 ---
Welcome message from site
Williams Lake has world renowned mountain biking, hiking, fishing, cross-country skiing, horse activities and no traffic jams. Population 11,000, but we serve a catchment area of 50,000. Main industries are ranching, forestry, mining and it has a large number of government ministry jobs. A friendly, relaxed outdoor lifestyle in the Central Interior of BC. Located midway between Kamloops and Prince George.
Our clinic is 3,000 square feet with six large private treatment rooms plus a large well-equipped gym area. We have five physios, ranging from new grads to "fossils." A sense of humor is a must. Languages spoken include English, French, Punjabi, Scottish brogue and a smattering of Dutch.
Site Details
Placement Category: 
Facility Type:
Patient population description:
Mainly adults, some teenagers. Mainly musculoskeletal conditions, ranging from acute to chronic. Occasional neuro cases.
Physiotherapist expertise on site (special interests, degrees, certificates, etc.):
Sports physio diploma, acupuncture, vestibular rehab, E3V3 ortho, casting for custom orthotics and knee braces.
These types of learning opportunities may be available at this site:
Students can also have exposure to animal physiotherapy, WorkSafeBC OR-1 program and return to work support services (job site visits, graduated return to work planning and monitoring), as well as a wide range of ortho conditions.
Possible Interprofessional opportunities at this site:
None available.
---
For information on pre-placement requirements and orientation please refer to the specific health authority listing, found here.
If you need to update your current site profile please send an email with the updated information.