Site Address:
98 Ridgewood Drive
Princeton, BC V0X 1W0
Back to search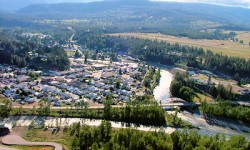 ---
Welcome message from site
Three new physicians were recently recruited. This is a small town. You will be treated like a rockstar!!!
Nestled between two rivers in the foothills of the Cascade Mountains, Princeton is a prominent adventure playground only two hours by car from the interior hub of Kelowna and 4 hours by car from downtown Vancouver.
With abundant lakes and the Similkameen and Tulameen Rivers converging in the centre of town, water lovers can partake in canoeing, water skiing, kayaking and the fishing is year round! Hiking, 4x4ing, camping and golfing at the renowned Princeton Golf Club (where you may catch a glimpse of the resident badgers) are just a few of the many activities Princeton has to offer.
If it's winter sports you're interested in, Princeton has some of the best snowmobiling terrain around, as well as Manning Park Ski Resort is only 40 minutes drive away, downhill skiing at Apex Ski Resort near the town of Penticton just over an hour's drive by car. Snow Patch Mountain is only minutes from downtown and offers numberous cross country ski trails. Princeton is a recreational lover's dream!
Site Details
Placement Category: 
Acute
,
Chronic Disease Management
,
Outpatient
Facility Type:
Hospital
Patient population description:
Princeton General Hospital is a Level 1 Community Hospital in the Okanagan health service area. Located south west of Penticon, the hospital offers services including acute care, labratory, and 24 hour emergency. Ridgewood Lodge, attached to the hospital, has room for 35 patients.
Physiotherapist expertise on site (special interests, degrees, certificates, etc.):
As this is a general placement there is exposure to all aspects of physio care; wide range of knowledge for all fields.
These types of learning opportunities may be available at this site:
This is a rural placement, which means exposure to all types of fields - not specialized in only one or two areas. That makes for a great all around experience.
Possible Interprofessional opportunities at this site:
You will work with our physicians, nurses and health care team.
---
For information on pre-placement requirements and orientation please refer to the specific health authority listing, found here.
If you need to update your current site profile please send an email with the updated information.