Site Address:
Matsqui Recreation Centre
3106 Clearbrook Road
Abbotsford, BC V2T 4N6
Back to search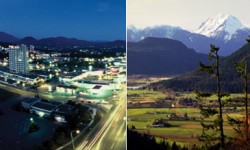 ---
Welcome message from site
OASIS CBI Health Centre opened in 1991 in the Matsqui Recreation Centre in Abbotsford. Since then, we have offered rehabilitation programs utilizing the swimming pool and whirlpool for Hydrotherapy, and the weight room area for progressive physical rehabilitation.
Our therapists work with patients to evaluate and restore strength, endurance, movement and physical abilities affected by injury, disease, disability or surgery. Staff identify patient treatment goals, establish and implement individualized treatment, prescribe exercise and education, and encourage patients to assume responsibility for increasing their body's function. Our clinic is equipped with simulation and exercise equipment used for developing individualized programs tailored to the specific needs of patients. OASIS CBI Health Centre Physiotherapists are graduates of recognized university-based physiotherapy programs and are licensed by the College of Physical Therapists of BC, maintaining a rigorous code of ethics and high standards for demonstrated continued competency.
CBI Health Group is one of Canada's premier providers of quality Health Care and Rehabilitation Services. Since 1974, CBI has pioneered the development of active health care and rehabilitation solutions and continues to expand both the scope of our services and locations for service delivery. Our network of CBI Health Centres, Sports Injury clinics, OT Services and other affiliated clinics has grown to over 150 strategic locations from coast to coast. CBI Health Group has been recognized as a 50 Best Managed Company for five consecutive years and was recently selected as one of Canada's 10 Most Admired Corporate Cultures.
Site Details
Placement Category: 
Outpatient
Facility Type:
Private Practice
Patient population description:
OASIS CBI Health Centre offers both acute physiotherapy and multi-disciplinary programs, which are funded through Work Safe BC, the Insurance Corporation of BC, and LTD companies. Our clients range in age from children to seniors. Our staff work with patients to evaluate and restore strength, endurance, movement and physical abilities affected by workplace or motor vehicle accident injuries, pre and postsurgical needs, illness or chronic disease or age-related conditions.
Physiotherapist expertise on site (special interests, degrees, certificates, etc.):
Our Physiotherapists have expertise in orthopaedics, the treatment of musculo-skeletal conditions through manual therapy, mechanical assessment and treatment and hydrotherapy. Special interests include pre- and post-operative care, hydrotherapy, general strength and conditioning, joint replacement rehabilitation and work conditioning programs.
These types of learning opportunities may be available at this site:
At OASIS physiotherapy you will have the opportunity to experience private and program orthopaedic care, ranging from the very acute to chronic case. The majority of our clients are seen for neck and back, shoulder or knee injuries.
We have therapists and Kinesiologists with training in Active Release Technique (ART), Advanced Physical Therapy Education Institute (APTEI), Functional Movement Systems(FMS), Selective Functional Movement Assessment (SFMA), and Certified TPI Instructors (Titleist Performance Institute).
Possible Interprofessional opportunities at this site:
At OASIS CBI Health Centre, students will have the opportunity to work alongside Physiotherapists, Physiotherapy Assistants and Kinesiologists. We also coordinate with our clients' Occupational Therapists, Medical Doctors, and Nurses.
Outside our facility, within CBI Health Group there are a variety of opportunities to learn and work alongside Medical Doctors, Occupational Therapists, Psychiatrists and many other clinical designations.
---
For information on pre-placement requirements and orientation please refer to the specific health authority listing, found here.
If you need to update your current site profile please send an email with the updated information.