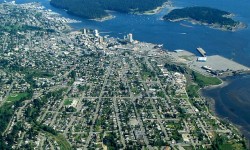 ---
Welcome message from site
The Nanaimo CDC was established in 1968 to provide service to children with a variety of developmental disabilities. We have developed into a large organization serving the needs of children and families in the Nanaimo-Ladysmith school district. Services are provided both on and off site
Site Details
Placement Category: 
Outpatient
,
Rehab
Facility Type:
Child Development Centre
Patient population description:
Children from birth to 19 years of age with a variety of developmental motor difficulties.
Physiotherapist expertise on site (special interests, degrees, certificates, etc.):
PT department is comprised of five experienced therapists.
These types of learning opportunities may be available at this site:
- Equipment inservices.
- Possibility of attending orthopedic clinic at local hospital with clients.
- Participation in seating and positioning outreach clinic (SunnyHill therapists attend CDC twice a year).
Possible Interprofessional opportunities at this site:
CDC services are provided by a team which may include PT,OT, SLP, Infant Development, Supported Child Development, Family Develoment and Family Support programs.
---
For information on pre-placement requirements and orientation please refer to the specific health authority listing, found here.
If you need to update your current site profile please send an email with the updated information.