Site Address:
30 Lakeshore Drive NW
Salmon Arm, BC V1E 4P2
Back to search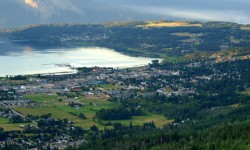 ---
Welcome message from site
At Live Well Physiotherapy, it is our fundamental belief that optimal results are achieved through quality one-on-one care. This belief is reflected in all areas of our practice from booking longer treatment sessions, to comprehensive assessments and effective, hands-on treatments, as well as providing individualized exercise plans to meet the needs of each individual.
We value our team, and take care to foster a collaborative approach. We will do our best to bring you into our team while you are with us. The best learning opportunities go both ways. We look forward to learning from you, as you learn from us!
And we hope you make the most of the Shuswap while you are here. It's a great place to be! Winter wonderland and ski days soon melt to summer sun and time on the lake - there are year-round outdoor activities to experience!
Site Details
Placement Category: 
Outpatient
Facility Type:
Private Practice
Patient population description:
Patient ages range from children to elderly, and of both an athletic and a general population. While we do see predominantly MSK patients, there are also sometimes neurological cases, such as patients recovering from stroke or dealing with Parkinson's Disease.
We work with private, ICBC, WorkSafe BC, MSP, RCMP, and Veteran's Affairs patients.
We are also the treating physiotherapists for the Junior A hockey team, the Salmon Arm Silverbacks.
Physiotherapist expertise on site (special interests, degrees, certificates, etc.):
General MSK; Chronic Pain; Dry needling; Myofascial Release Techniques; Concussion; Vestibular; Women's Health; Acupuncture; Paediatrics; Exercise Prescription.
These types of learning opportunities may be available at this site:
You will be supervised by one full-time physiotherapist while on this placement. There will be the opportunity to experience a busy, rural private practice with a varied caseload.
There will also be the opportunity for hands-on learning, such as myofascial approaches and other soft-tissue techniques. There are also other therapists with which to interact and learn from during your placement.
Possible Interprofessional opportunities at this site:
We are an interdisciplinary clinic with five physiotherapists, a kinesiologist, and a counsellor.There will be an opportunity for interaction and professional communication between professions within the clinic. There may also be an opportunity for communication with local medical professionals.
In hockey season, there may be a chance to interact with the local junior A team, the Salmon Arm Silverbacks, and their athletic therapist and trainer.
---
For information on pre-placement requirements and orientation please refer to the specific health authority listing, found here.
If you need to update your current site profile please send an email with the updated information.