Site Address:
160-6111 River Road
Richmond, BC V7C 0A2
Back to search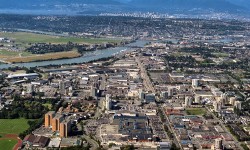 ---
Welcome message from site
We are small, vibrant group of Physiotherapists working in a multidisciplinary Sports Medicine Clinic. Our clinic is a brand new 1500 square foot facility found on the lower level of the historic Olympic Oval.
Our team consists of Physiotherapists, Chiropractors, Massage Therapists, Sports Medicine Physicians and Pedorthists. We have a great relationship with a number of recreational and elite level teams in the Richmond community. Our team is continually involved in providing coverage for sporting events and athlete educations sessions on injury prevention strategies and performance.
Our PTs are eager to share their knowledge and expertise with the UBC students in the area of Sports Medicine!
Site Details
Placement Category: 
Outpatient
Facility Type:
Private Practice
Patient population description:
We see a variety of patient populations including recreational and elite athletes, some ICBC and WCB and the general population.
Physiotherapist expertise on site (special interests, degrees, certificates, etc.):
Many of our physiotherapists have completed post graduate certifications in functional movement assessment and treatment, acupuncture and dynamic neuromuscular retraining to name a few. Some of our therapists have also worked with elite and professional teams, including the Calgary Stampeders and the Vancouver Canucks.
These types of learning opportunities may be available at this site:
Assessment and treatment of acute and chronic injury, corrective exercise prescription, manual therapy techniques, functional movement evaluation, other hands-on treatment techniques.
Possible Interprofessional opportunities at this site:
Opportunity to Shadow other practitioners: PT, RMT, Bracing and Orthotics Specialist, Sports Medicine Specialist, Sports Psychologist, Chiropractor, Kinesiologist.
---
For information on pre-placement requirements and orientation please refer to the specific health authority listing, found here.
If you need to update your current site profile please send an email with the updated information.