City/Town:
Prince George
Site Address:
Highland Health & Family Development Centre
101-155 McDermid Drive
Prince George, BC V2M 4T8
Back to search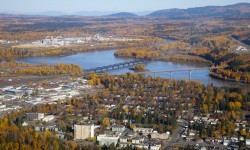 ---
Welcome message from site
Welcome to Northern Health, Prince George Home & Community Care Department. We consist of a small rehab department among other health professionals such as occupational Therapists, Home Care Nurses, Long Term Care Case Managers, Social Workers, Integrated Health Team for Seniors, Home Support and Health Services for Community Living. We service clients of all ages and those with disabilities or chronic illness including palliative care. As we visit clients in their home environment, there is always an adventure waiting and we are continuously learning.
Site Details
Placement Category: 
Community Health
Facility Type:
Community Agency
Patient population description:
- We see people of all age groups who need direct treatment and are unable to attend an outpatient rehabilitation facility.
- Members of the public, families and caregivers of patients.
- Groups interested in promoting the health and safety of their members.
- The types of clients we see include: COPD, pneumonia, Parkison, ALS, MS, CVA, TKR, THR, hip fractures, Palliative patients, brain injuries and elderly who are failing at home.
Physiotherapist expertise on site (special interests, degrees, certificates, etc.):
- Assessing prescribing & assisting with funding for equipment such as mobility aids and bath aids, etc.
- Assessment, consultation & treatment of chest/respiratory problems or conditions.
- Assessment, consultation & treatment of specific muscular-skeletal problems or conditions using modaliities, exercise programs, etc.
- Recommend environmental adaptations for the home, including kitchen, bathroom & furniture in order to promote access, independence & safety.
- Assessment, consultation & teaching of specific transfers, positioning, etc.
- Consultation on accessing other community resources.
- Referral to and liaison with other agencies.
These types of learning opportunities may be available at this site:
- We provide a community based care program which includes education, assessment, maintenance, active treatments and rehabilitation.
- We carry a varied caseload including geriatric, orthopedic, respiratory, neurological and arthritic categories.
- We assess for mobility devices such as wheelchairs and scooters; provice consultation for seating and positioning.
- We can provide cognitive and perceptual assessments.
- We do home assessments for accessibility and we advise regarding aids and adaptations which help to maintain independence and ensure safety in the home such as installation of grab bars, use of walkers, tub transfer benches, raised toilet seats, stair rails, ramps, etc.
Possible Interprofessional opportunities at this site:
The Home & Community Care department consists of and people whom you would be interacting with include Home Support Workers, Home Care Nursing (RNs & LPNs), Long Term Care Case Management (RNs), as well as other health care providers such as Doctors and Nurse Praticitioners outside of the Home & Community Care umbrella.
---
For information on pre-placement requirements and orientation please refer to the specific health authority listing, found here.
If you need to update your current site profile please send an email with the updated information.