Site Address:
200 - 15387 104th Avenue
Surrey, BC V3R 1N5
Back to search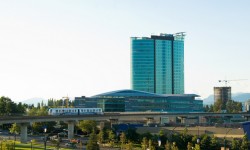 ---
Welcome message from site
Hello and welcome! Our Physiotherapy and Hand Therapy clinics provide quality rehabilitation services utilizing the skills of Physiotherapists, Certified Hand Therapists, Occupational Therapists and Kinesiologists. Our mission is to provide high quality rehabilitation services through specialized, individualized care for a broad range of physical health conditions so the client can return to activities that are important to them.
We have been around since 1996 and were the first to offer hand therapy fellowships in Canada. Our therapists participate in ongoing education to stay informed about the latest techniques. We stay active in helping our community and organizations improve employee safety and satisfaction through health promotion activities.
Our Physiotherapy Centers and Hand Therapy Centres are always looking for enthusiastic, client-centered team members. You are in good hands with our team!
Site Details
Placement Category: 
Outpatient
Facility Type:
Private Practice
Patient population description:
Physiotherapist expertise on site (special interests, degrees, certificates, etc.):
Physiotherapists, Certified Hand Therapists, Occupational Therapists and Kinesiologists prescribe personalized therapeutic exercises, and provide essential education about the body, what keeps it from moving well, how to restore mobility and independence, and how to avoid or prevent bodily harm.
These types of learning opportunities may be available at this site:
Hand Therapy Centres is dedicated to training and supporting the learning for therapists wishing to specialize in the field of physiotherapy and hand therapy. To learn more about the Hand Therapy Fellowship Opportunities, please contact us.
Possible Interprofessional opportunities at this site:
To learn more about interprofessional opportunities, please contact us.
---
For information on pre-placement requirements and orientation please refer to the specific health authority listing, found here.
If you need to update your current site profile please send an email with the updated information.