Site Address:
Unit 221 - 181 Keefer Place
Vancouver, BC V6B 6C1
Back to search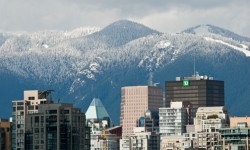 ---
Welcome message from site
Footbridge Physiotherapy is located within the Footbridge Centre for Integrated Orthopaedic Care - a unique facility that allows our Physiotherapists to work closely with Orthopaedic Surgeons and Physicians in the management and rehabilitation of a variety of musculoskeletal conditions. Students will be exposed to an interprofessional learning environment that is unlike any other in Vancouver!
Site Details
Placement Category: 
Outpatient
Facility Type:
Private Practice
Patient population description:
Our predominant patient population is adult MSK, with a focus on lower limb conditions. Many of our patients are pre- or post-operative foot and ankle surgery, and as such we see a variety of complex foot and ankle conditions. We work with a variety of Orthopaedic Specialists and Sport Physicians, so we also see wide range of MSK injuries.
Physiotherapist expertise on site (special interests, degrees, certificates, etc.):
Our Physiotherapists have completed numerous post-graduate courses and certifications, and are constantly striving to improve themselves as clinicians. Their treatment philosophy is centred around the use of manual therapy, IMS, and exercise in conjunction with individualized exercise programs to get their patients on the road to recovery. Our therapists also have a keen interest in the management of sports injuries and are involved with a variety of local teams.
Specific post graduate training includes:
FCAMPT
IMS/Dry Needling
Vestibular/Concussion Rehabilitation
Functional Movement Screen/Selective Functional Movement Assessment
...as well as a variety of other certifications!
These types of learning opportunities may be available at this site:
Students will have a unique opportunity to work with complex foot and ankle conditions managed both conservatively and surgically. Students will work predominantly in a private clinic setting, but will also have exposure to surgical post-operative clinics where they will work along side Orthopaedic Surgeons.
Possible Interprofessional opportunities at this site:
Footbridge Physiotherapy is located within the Footbridge Centre for Integrated Orthopaedic Care; as such they will be able to learn from Orthopaedic Surgeons, Sports Physicians, and Pedorthists.
---
For information on pre-placement requirements and orientation please refer to the specific health authority listing, found here.
If you need to update your current site profile please send an email with the updated information.