Site Address:
1110 4th Avenue
Prince George, BC V2L 3J3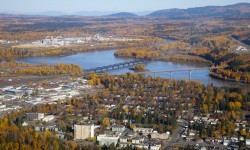 ---
Welcome message from site
Since its inception by Indigenous community leaders in 1991, Central Interior Native Health Society (CINHS) strives to recognize the unique health care needs of Indigenous and non-Indigenous clients alike. In our integrated health centre, CINHS provides Primary Health Care and Specialty/Specialist Care with the compliment of qualified professionals who directly address the Social Determinants of Health.
Our unique service delivery at CINHS is founded on an Equity Oriented Health Care Model that includes Care Coordination, Community-based Clinics, Community Partnerships and ever-expanding in-house services. Collectively, we strive to eliminate barriers that can impede access to health services and we are committed to providing cultural, trauma and violence informed care, following a harm reduction model that is person and family-centered. Our interdisciplinary team consists of primary care providers (family nurse practitioners and general practitioners), registered nurses, wellness counsellors, social workers, physiotherapists, outreach and support workers, elders, and visiting specialists (Obstetrics and Gynecology, Psychiatry, Infectious Disease, Pediatrics). This practice of shared care results in wraparound services for clients.
Through our commitment to De-colonization and Teaching, we train students within the formal education system and inform the community of approaches to health and healing that fosters equity and an Indigenous worldview. We strive to be advocates for improved access to services (both inside and outside of our health centre), and we work with visionary professionals in the health community and beyond, to improve the quality of care for those we serve.
Site Details
Placement Category: 
Facility Type:
Patient population description:
Aboriginal People and people who live on, or close to, the street.
Physiotherapist expertise on site (special interests, degrees, certificates, etc.):
Acupuncture, Orthopedics, First Nations Health.
These types of learning opportunities may be available at this site:
Home Program, In-service training/lectures, Interprofessional Opportunities, Pain Management Program, Prevention/Wellness, Pulmonary rehab, Team Meeting/Rounds, Cultural Safety & Competence.
Possible Interprofessional opportunities at this site:
Arthritis, Burns, Cardiorespiratory conditions, Chronic Pain/Pain, Degenerative Disease, General Medical Conditions, General Neurological Conditions, Hand/Upper extremity, Mental Disability, Orthopedic/Musculoskeletal, Traumatic Brain Injury, Mental Health; Addiction.
---
For information on pre-placement requirements and orientation please refer to the specific health authority listing, found here.
If you need to update your current site profile please send an email with the updated information.