Site Address:
217 - 4800 No. 3 Road
Richmond, BC V6X 3A6
Back to search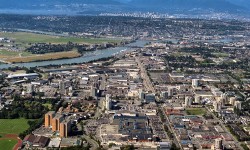 ---
Welcome message from site
CBI Richmond has served the Richmond community since 1995 with a multidisciplinary treatment team consisting of Occupational Therapists, Physical Therapists and Exercise Therapists, supported by great administrative staff. We pride ourselves in being able to provide thorough, comprehensive, and effective treatment for all our clients.
Our experienced and knowledgeable staff members are dedicated to your health, recovery and comfort. We pride ourselves on making your rehabilitation experience positive, enjoyable and professional.
CBI Health Group is one of Canada's premier providers of quality Health Care and Rehabilitation Services. Since 1974, CBI has pioneered the development of active health care and rehabilitation solutions and continues to expand both the scope of our services and locations for service delivery. Our network of CBI Health Centres, Sports Injury clinics, OT Services and other affiliated clinics has grown to over 150 strategic locations from coast to coast. CBI Health Group has been recognized as a 50 Best Managed Company for five consecutive years and was recently selected as one of Canada's 10 Most Admired Corporate Cultures.
Site Details
Placement Category: 
Outpatient
Facility Type:
Private Practice
Patient population description:
CBI Richmond offers both acute Physiotherapy and multi-disciplinary programs, including:
- WSBC OR1 Program
- Interdisciplinary program (ICBC/LTD/Employer)
- Acute physiotherapy treatment (private/EHB/ICBC/WSBC)
- OT services
Physiotherapist expertise on site (special interests, degrees, certificates, etc.):
Our Physiotherapists have expertise in the following areas:
- TMJ
- Vestibular Rehabilitation
- Pre and Post natal treatment
- Traction
- Acupuncture
These types of learning opportunities may be available at this site:
Our experienced multidisciplinary team will provide students with the opportunity to learn in a private practice setting as well as in occupational rehab programs. Students will focus on developing their assessment skills, including the taking of personal histories, diagnostic skills and the implementation of a treatment care plan. The opportunity to attend case reviews, team meetings and communicate with stakeholders will also be provided.
Possible Interprofessional opportunities at this site:
Physiotherapy students will have the opportunity to work alongside our rehab program team in our WSBC OR1 Program, and also with experienced Physiotherapists for acute private clients/cases.
---
For information on pre-placement requirements and orientation please refer to the specific health authority listing, found here.
If you need to update your current site profile please send an email with the updated information.