City/Town:
Prince George
Site Address:
1515 2nd Avenue
Prince George, BC V2L 3B8
Back to search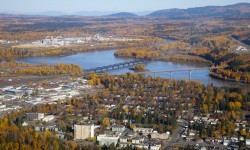 ---
Welcome message from site
Welcome to CBI Health Centre – Prince George!
CBI PG is a multi-disciplinary team that includes Physiotherapists, a Kinesiologist, Athletic Therapist, Occupational Therapists, a Sports Medicine Physician, and Psychologist. In the community since 1997, CBI PG has become a rehabilitation resource for the local medical community and sponsors alike. We are continually growing and searching out new opportunities to join forces with local sports teams, public service organizations and industries.
CBI Health Group is one of Canada's premier providers of quality Health Care and Rehabilitation Services. Since 1974, CBI has pioneered the development of active health care and rehabilitation solutions and continues to expand both the scope of our services and locations for service delivery. Our network of CBI Health Centres, Sports Injury clinics, OT Services and other affiliated clinics has grown to over 150 strategic locations from coast to coast. CBI Health Group has been recognized as a 50 Best Managed Company for 5 consecutive years and was recently selected as one of Canada's 10 Most Admired Corporate Cultures.
Prince George is the centre of business, education, health and culture for Northern British Columbia. Affordable housing, land prices and transportation costs, due to short and quick commutes, result in one of the lowest costs of living for a city of its size in the province. Additionally, wage rates fall above provincial averages, providing residents of Prince George with a high standard of living in one of BC's most beautiful regions. For the sports-minded individual Prince George is central for hiking, biking, climbing, skiing (downhill and cross-country), and snowshoeing. All eyes will be on Prince George when we host the 2015 Canada Winter Games.
In Prince George we are just minutes from being fully immersed in the wonders of our natural surroundings – this is a true outdoor person's paradise.
Site Details
Placement Category: 
Outpatient
Facility Type:
Private Practice
Patient population description:
Prince George, BC's Northern capital, is the fourth largest city in BC with a population of 75,000 but services a rural region of about 300,000. We are a relatively young population in comparison to BC as a whole, with 31.8% of the population under the age of 24. The workforce is diverse with an emphasis on trades, healthcare, and manufacturing.
At CBI Health Centre in Prince George we offer acute physiotherapy and multi-disciplinary programs, which may be funded through WorkSafe BC, the Insurance Corporation of BC, and LTD companies. We treat clients of all ages for conditions ranging from workplace and MVA injuries, pre- and post-surgical needs, illness or chronic disease and age-related conditions.
Physiotherapist expertise on site (special interests, degrees, certificates, etc.):
The clinicians at CBI Prince George take great pride in successfully returning our clients to work and to their pre-injury activities. We rely heavily on utilizing the unique skills of our interdisciplinary team to achieve these good outcomes. Our Physiotherapists are also working towards certification in Acupuncture and Manual therapy to further ensure the success of our clients.
These types of learning opportunities may be available at this site:
Our staff is supported by continual training and education, in-house and external to CBI, that ensures best practices and optimal services are delivered to our clients. Because CBI Prince George treats acute and multi-disciplinary program clients you will have the benefit of working with a client case load that leaves nothing out.
We have therapists with advanced training who can provide you with exposure to manual therapy, core conditioning, return to activity progression (sports and work), advanced protocols for tendinopathy treatment and post spinal, shoulder and knee surgical rehabilitation.
Possible Interprofessional opportunities at this site:
By working closely with all members of our team and by fostering relationships with health care professionals in our community we are able to create an environment of professional growth and opportunity such as observing surgical procedures and shadowing other professionals.
---
For information on pre-placement requirements and orientation please refer to the specific health authority listing, found here.
If you need to update your current site profile please send an email with the updated information.