Site Address:
P.O. Box 220
1025 Elcho Street
Bella Coola, BC V0T 1C0
Back to search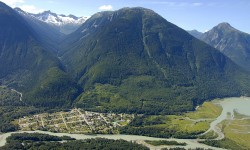 ---
Welcome message from site
If you are determined to become an exceptional health care professional, and are willing to work hard for it, the physiotherapist in Bella Coola would like to welcome and challenge you to take this learning opportunity to prepare yourself for the physiotherapy practice of today, and the future.
The rewards, the adventure -- yours to discover!
http://www.hellobc.com/bella-coola.aspx
http://bcadventure.com/adventure/explore/cariboo/cities/bella.htm
A few practical notes about Bella Coola:
1. Direct flights from YVR South Terminal - http://www.pacificcoastal.com/route-map/ Book early for cheaper fares.
2. Driving distance is 690 km from Prince George, and 1,000 km from Vancouver.
3. There is a 20 km-long hill, called "The Hill", descending from the Chilcotin Plateau, 60 km before Bella Coola along Hyw 20. It's a gravel road but well maintained. Use engine break and low gear! A bit scary, but beautiful scenery!
4. There is a BC Transit bus in town that will take you just about anywhere in the 50 km stretch of the valley. Sorry, no long distance bus service here (e.g. Greyhound)!
5. There is a Credit Union branch with ATM, but no other banks in town. So, take your credit card with you!
6. It's a 5-minute walk to just about anywhere in town!
7. The rent for a two-bedroom apartment is ~$450/month this year (2017) in the hospital owned 4-plexes, subject to availability.
8. It rains here just like Vancouver.
Contact for more site info:
Physiotherapist:
Freeman.Qu@vch.ca
(250) 799-5311
Site Details
Placement Category: 
Acute
,
Community Health
,
Outpatient
Facility Type:
Hospital
Patient population description:
1. Relatively younger acute care patient population.
2. Primarily MSK cases in out-patient.
3. Community care patients are similar to other sites.
4. ~50% of population in Bella Coola belongs to the Nuxalk First Nation.
Physiotherapist expertise on site (special interests, degrees, certificates, etc.):
1. Acute care, out-patient, and community care experience for adult population in rural and small community.
2. Clinical reasoning and documentation.
3. Integrating lab and radiology information into physiotherapy practice.
3. Professional practice knowledge and experience.
4. Five years of experience in supervising MPT students in clinical placements.
These types of learning opportunities may be available at this site:
1. Developing clinical and professional practice competencies through working with an experienced sole-charge physiotherapist.
2. Exposure to mixed acute care, out-patient, and community care cases for adult population in rural and small community.
3. Exposure to First Nations culture.
Possible Interprofessional opportunities at this site:
Working very closely with:
1. Family physicians, medical residents and medical students; occasionally with visiting specialists, including orthopedic surgeon.
2. Nursing teams in acute, residential, and community care.
---
For information on pre-placement requirements and orientation please refer to the specific health authority listing, found here.
If you need to update your current site profile please send an email with the updated information.