Associate Professor Linda Li's work was highlighted in the BC Government's latest Technology Strategy released on July 13, 2012. The ANSWER (ANimated, Self-serve, Web-based Research) project was the only one cited in the report as an example of innovation in the field of Digital and Screen-based Media.
ANSWER is a unique web-based tool whose aim is to educate patients with rheumatoid arthritis on their condition; improving their ability to make effective shared decisions with health-care professionals. The project is a collaboration between the Arthritis Research Centre of Canada and the Centre for Digital Media. Dr. Li is leading the research team with Paul Adam (Social Worker and Knowledge User). The research is funded by the Canadian Institutes of Health Research (CIHR) and the Canadian Rheumatology Association.
ANSWER was also featured as an example of exceptional Integrated KT in CIHR's Guide to Knowledge Translation Planning at CIHR: Integrated and End-of-Grant Approaches http://www.cihr.ca/e/45321.html see pg. 10 on the PDF.
Recently Kerry-Lynne Findlay, Member of Parliament for Delta – Richmond East, visited with researchers at the Arthritis Research Centre of Canada (ARC) where she highlighted how federal investments are helping strengthen healthcare across the country. She met with Dr. Linda Li and her colleagues who are carrying out another CIHR-funded project that is examining the link between physical activity, hip pain and hip osteoarthritis, which is the leading cause of hip replacement surgeries. Their work may lead to new strategies for preventing hip osteoarthritis.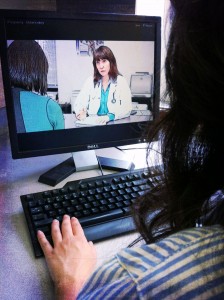 For more information, please visit the Arthritis, Joint Health & Knowle
dge Translation Research Program