City/Town:
Port Coquitlam
Site Address:
#101 - 1125 Nicola Avenue
Port Coquitlam, BC V3B 8B2
Back to search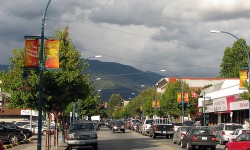 ---
Welcome message from site
Port Coquitlam, known as "The city of rivers and mountains" is a thriving community between the Pitt and Coquitlam Rivers. For those that love the outdoors, the PoCo Trail's 24-kilometres (14.9-miles) is popular with walkers/runners and bike riders and further exploration will reveal many more challenging hikes nearby.
Nestled in this growing city, is Westcoast SCI, a research-driven, active-based care physiotherapy clinic. We pride ourselves in delivering customized one-on-one treatment with the goal of empowering our patients with the tools, resources and education to reach their full potential. Our team of physiotherapists regularly attend post-graduate courses and we strive to stay current by running in-services to share and consolidate our knowledge. Longer sessions with each patient allow us to develop rapport and therapeutic alliance in a more relaxed setting, as well as spend a good portion of time doing active-based treatment. Mentorship by an experienced physiotherapist will aim to support your learning style and goals, while allowing you the opportunity for curiosity, growth and to experience the many nuances of patient care.
Site Details
Placement Category: 
Outpatient
Facility Type:
Private Practice
Patient population description:
Variety of orthopaedic conditions: MVA, WorkSafeBC, concussion, vestibular, persistent pain, pre-hab/active-based for health management.
Physiotherapist expertise on site (special interests, degrees, certificates, etc.):
Vestibular and vertigo
Concussion
Acupuncture and IMS
TMJ
Persistent pain
These types of learning opportunities may be available at this site:
Integration of biopsychosocial model, both screening and implementation
Assessing/recognizing concussion, vestibular/vision
Manual therapy
Exercise prescription
Caseload management
Possible Interprofessional opportunities at this site:
Kinesiology
Liaise with GPs and OTs as necessary
---
For information on pre-placement requirements and orientation please refer to the specific health authority listing, found here.
If you need to update your current site profile please send an email with the updated information.