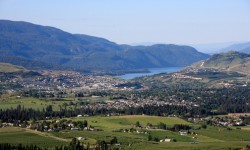 ---
Welcome message from site
Thank you for considering completing your clinical placement at the Vernon Jubilee Hospital. The physiotherapists at VJH are an experienced, enthusiastic and friendly group of health care professionals who are keen to share their knowledge, as well as benefit from the knowledge you bring.
Vernon is a vibrant community, known for its beautiful surroundings and wealth of recreational activities. You can ski at Silver Star Mountain and Sovereign Lake, golf at one of seven golf courses or swim in our beautiful lakes. We also have many coffee shops, local wineries and local live theatre. Life is good here.
Site Details
Placement Category: 
Acute
,
Chronic Disease Management
,
Outpatient
Facility Type:
Hospital
Patient population description:
Inpatient: Acute physiotherapy services are provided in the following areas: Intensive Care Unit, Medicine, Surgery and Rehab.
Orthopedic outpatient: The outpatient physiotherapy department (orthopaedic) provides physiotherapy services to patients with acute post-surgical conditions, including fractures, total joint replacements and multiple traumas.
Neurological outpatient: The outpatient physiotherapy department (neurology) provides physiotherapy services to patients with neurological conditions who are living in the community. Conditions may include Stroke, Parkinson's, Acquired Brain Injury and Multiple Sclerosis. The neurological outpatient physiotherapy program also provides physiotherapy services to patients who have had an amputation and live in the community.
Community Rehabilitation Services (CRS): CRS provides physiotherapy to individuals in a community setting. The physiotherapist is part of an interdisciplinary care team which aims to address clients' needs through an interdisciplinary approach and seeks to help clients function better in their home environment and community.
Residential Care: Residential care is for individuals with complex health care needs that require 24 hour per day professional care due to physical disability, or mental and behavioural conditions such as dementia and acquired brain injuries. Physiotherapists in residential care facilities develop physiotherapy programs to help residents attain their optimal physical functioning.
Occupational Rehabilitation 1 (OR1): is an active rehabilitation program focused on helping clients return to work. The program includes physical and functional conditioning, client education and supported return to work. The physiotherapist is responsible for assessing and treating clients, developing individualized exercise programs and providing return to work support services.
Convalescent Care (Short-Stay Unit): The convalescent care program is for individuals who are medically stable, but are not ready to return home. The program provides additional time for the individual to recuperate and regain their independence. The physiotherapist is responsible for assessing each participant and developing an individualized treatment program focused on helping the individual to regain their physical abilities, return to their home and remain independent.
Physiotherapist expertise on site (special interests, degrees, certificates, etc.):
Each physiotherapist has his or her own area of expertise.
These types of learning opportunities may be available at this site:
You may have the opportunity to shadow a physiotherapist in another specialty program and/or another health professional. You may also have the opportunity to observe a surgery related to your clinical placement.
Possible Interprofessional opportunities at this site:
You will be part of a dynamic team of health professionals, including occupational therapists, integrated care coordinators, social workers, dieticians, nurses and physicians.
---
For information on pre-placement requirements and orientation please refer to the specific health authority listing, found here.
If you need to update your current site profile please send an email with the updated information.