City/Town:
Prince George
Site Address:
1475 Edmonton Street
Prince George, BC V2M 1S2
Back to search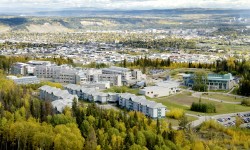 ---
Welcome message from site
Prince George has a population of 80,000 with a very large rural area to serve. As a regional hopital UHNBC takes patients from anywhere in the health region. It has a spacious layout allowing for a 2:1 or 4:1 students to preceptor ratio. We have a staff of 12 PTs and work closely with OTs, SLPs, Rec.Ts, and five Rehab Assistants.
Having both UBC faculty and a state-of-the-art Plinth lab at UNBC there are many opportunities to get together with your class on placement in Prince George for social and collegial events. In summer there is an abundance of outdoor activities and winter sports are all accessible within hours of work.
Site Details
Placement Category: 
Acute
,
Chronic Disease Management
,
Outpatient
,
Rehab
Facility Type:
Hospital
Patient population description:
- Paediatrics, neonates, adults and geriatrics. Rehabilitation for neurological and slow recovering trauma patients. ICU for the critically ill patients requiring ventilation and critical care. NICU for the premature and complex neonate.
- Two medical wards for the chronic and acutely ill adults with cardio resp conditions as well as investigation for diagnosis.
- Two surgical wards for all acute and elective surgery including weekly joint replacements, hips knees and shoulders.
- E.R. consults for same day discharge planning.
- Outpatients for both neurological and musculoskeletal conditions.
Physiotherapist expertise on site (special interests, degrees, certificates, etc.):
Most therapist have post-graduate training in their selected area of work: cardio resp, NDT and musculoskeletal with hand specialty.
These types of learning opportunities may be available at this site:
All surgical placements are encouraged to observe ar least two joint replacements. The Northern Medical Program is open to all students for open telehealth sessions.
Possible Interprofessional opportunities at this site:
Rehab services for a 22-bed ward functions as an interprofessional unit with daily huddles and common patient goals. Social work SLP RecTh, OT and nursing all work together on patient-centred care.
---
For information on pre-placement requirements and orientation please refer to the specific health authority listing, found here.
If you need to update your current site profile please send an email with the updated information.