Site Address:
Unit D 310 8th Street
Courtenay, BC V9N1N3
Back to search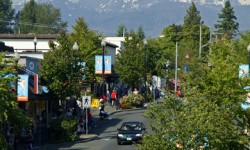 ---
Welcome message from site
Here at the Joint, we strive to provide a positive experience for injury management and recovery. We are lucky to have some of the most enthusiastic and progressive therapists on our team; who celebrate movement, humour, and education.
Our approach is anchored in the sports injury philosophy to identify and address the underlying source of injury, while prioritizing your body's maximum return to function. That being said, our clients come from a range of backgrounds and experiences; there is no "typical" client here at the Joint. Rather, we try our best to welcome everyone and treat them with their individual needs and abilities in mind.
Site Details
Placement Category: 
Outpatient
Facility Type:
Private Practice
Patient population description:
At The Joint Physiotherapy we see a variety of patients on a daily basis. We treat patients from all demographics and ages from the surrounding areas. Patients include private patients, military personnel (Active and Retired), ICBC, WCB, patients on Medical Services Premium (MSP).
Physiotherapist expertise on site (special interests, degrees, certificates, etc.):
Edwin Betinol - Clinical Faculty Instructor, Certified Pain Management Specialist, Certified Hand Therapist (works in correlation with the WCB hand therapy program), Acupuncture/IMS Certified
Dr. Ali Powers - Trained in The United States in a Physiotherapy Doctoral program
Tara Gornall - Acupuncture/IMS Certified
Leif Cope - Acupuncture Certified
Odette Lemay - Acupuncture/IMS Certified
These types of learning opportunities may be available at this site:
The Joint Physiotherapy + Sports Injury Centre is one of few Clinics in Western Canada to boast its very own Therapy Pool. We are lucky to have very current technology including a real time ultrasound machine at The Joint.
Possible Interprofessional opportunities at this site:
At The Joint Physiotherapy we are happy to be an integrated Clinic. We have a mental health professional on staff, Dr. Emma Thompson is a certified Physiotherapist. We also have an Exercise Physiologist on staff, Kelly Mackenzie-Rife is a Kinesiologist, as well as a Professor at Vancouver Island University. Michael Kono and Jeff Colley are our two Registered Massage Therapist here at The Joint. Michael is in school working towards becoming an Osteopath.
---
For information on pre-placement requirements and orientation please refer to the specific health authority listing, found here.
If you need to update your current site profile please send an email with the updated information.