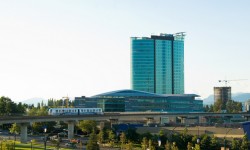 ---
Welcome message from site
Welcome to The Centre for Child Development! We are a great group of physiotherapists who love to work with kids and find ways to keep things fun. We have an awesome big PT gym, great staff, lovely clients, and a true sense of team. We love to watch children learn what they can do, and to empower families to open doors for their kids, we never know what the future holds!
Site Details
Placement Category: 
Outpatient
Facility Type:
Child Development Centre
Patient population description:
We see a large variety of babies, children and teenagers in various settings. Our patients range from birth to 18 years old, and live in Surrey, White Rock, Langley or Delta. Clients in the PT department all have some type of gross motor delay or disability. We see a large range of types of physical difficulties, from neurological diagnoses such as cerebral palsy or spina bifida, to more minor developmental delays or physical problems related to medical conditions.
Physiotherapist expertise on site (special interests, degrees, certificates, etc.):
We are a great team of experienced pediatric PTs. Having 15 PTs and 2 Rehab Assistants allows us to maintain a high level of specialized experience, with excellent opportunities for team learning and information sharing. Therapists work in infant development programs, school therapy programs, and onsite in our early intervention program. Some have gained more expertise in certain types of knowledge such as specialized equipment or orthotics.
These types of learning opportunities may be available at this site:
We offer a large variety of learning opportunities for students, depending on their interests. Aside from their typical daily caseload, we provide time in some of our more unique programs, such as hippotherapy and hydrotherapy. We have students participate in gross motor groups, casting and splinting appointments, and wheelchair prescription sessions. Students can also observe or participate in sessions with other types of professions in the building.
Possible Interprofessional opportunities at this site:
Our CDC is a team-based facility. There are opportunities to work with OTs, SLPs, family service workers, recreation therapists, psychologists, a dietician, a developmental pediatrician and others.
---
For information on pre-placement requirements and orientation please refer to the specific health authority listing, found here.
If you need to update your current site profile please send an email with the updated information.