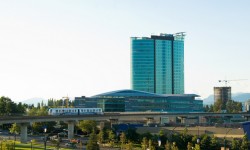 ---
Welcome message from site
Site Details
Placement Category: 
Acute
Facility Type:
Hospital
Patient population description:
Adult (19 or older) or Geriatric
Physiotherapist expertise on site (special interests, degrees, certificates, etc.):
These types of learning opportunities may be available at this site:
Student Activities: Transient rehabilitation for post surgical patients requiring intensive regular intervention with therapist-patient to progress transitioning to community programs and returning to baseline. Interdisciplinary intervention. Usual weekly schedule is either Monday through Thursday or Tuesday through Friday.
Case Types: Arthroplasty (TKA/THA), thoracic surgeries.
Possible Interprofessional opportunities at this site:
---
For information on pre-placement requirements and orientation please refer to the specific health authority listing, found here.
If you need to update your current site profile please send an email with the updated information.