Site Address:
13750 96 Avenue
Surrey, British Columbia V3V 1Z2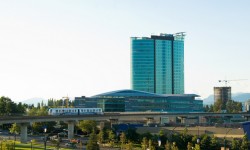 ---
Welcome message from site
Welcome to SMH Student Rehabilitation Outpatient Clinic!
This clinic runs in the same space as an already functioning Outpatient Physiotherapy Clinic. This placement will offer the opportunity to work in a busy clinical setting alongside a dynamic group of experienced Physiotherapists. Our clinic serves a diverse, multicultural, and complex population. You will have the opportunity to work with a variety of conditions and there is no shortage of referrals providing plenty of opportunity to develop caseload and time management skills. There are usually groups of students in this clinic which allows for students to have higher levels of independence and opportunities for peer interaction and learning.
We have a large and cohesive department with over 50 PTs and RAs through out the Surrey Campus and Jim Pattison Outpatient Care and Surgery Centre. The team is very supportive and collaborative and we welcome many students from both the PT and PTA programs. You may be assigned just one supervisor but all of us are willing to answer any questions you have.
Students become a part of the team when they are here and are encouraged to participate in the learning opportunities provided by our very dynamic Education Committee.
We embrace new grads and many of our staff are former students.
Lastly, we like to have fun and hope students will have fun with us. Come join us, you won't regret it!
Site Details
Placement Category: 
Chronic Disease Management, OP
Facility Type:
Patient population description:
Adult/Older Adult Outpatient Population.
Orthopedics
Neourology
Oncology
Amputees
Physiotherapist expertise on site (special interests, degrees, certificates, etc.):
The clinical supervisor has over 10 years experience working with a variety of acute care and outpatient populations. She enjoys mentoring students and finds this to be a very rewarding experience for all who are involved.
Several Bobath certified PTs
NDT trained PT
Pelvic floor/continence therapist
Cardiorespiratory PTs
Paediatric PTs
Hand Therapist
Chronic Pain PTs
These types of learning opportunities may be available at this site:
In this busy clinical setting the students will develop professional skills such as communication, professionalism, time management, and prioritization. The students will play a role in developing and setting their own schedules and will work with clerical staff for bookings. Students will follow patients through out the spectrum of treatment from initial assessment through to discharge planning and transition to community programs. This will include history taking, observation, objective assessment, selection and use of appropriate outcome measures, treatement sp – treatment planning, goal setting, exercise prescription, reassessment and progression of treatment plans. Students will have a high level on independence and a peer-learning approach will be fostered in this environment.
Other opportunities that may be available are:
Group exercise classes
Department Inservices
Observe surgery
Visit inpatient and rehabilitation wards or specialty clinics at JPOCSC
Possible Interprofessional opportunities at this site:
We work closely with RAs in this clinic. In addition sessions can be facilitated with OT, SLP, Audiology as indicated.
---
For information on pre-placement requirements and orientation please refer to the specific health authority listing, found here.
If you need to update your current site profile please send an email with the updated information.