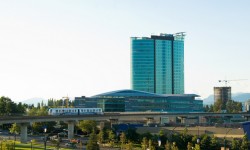 ---
Welcome message from site
Site Details
Placement Category: 
Acute
Facility Type:
Hospital
Patient population description:
Inpatient pediatric unit (0-18 years), NICU (Premature to Term) and outpatient services for pediatric patients (0-18 years)
Physiotherapist expertise on site (special interests, degrees, certificates, etc.):
These types of learning opportunities may be available at this site:
Student Activities: Acute medical condition intervention, oncology diagnosis and prognosis management, referral to community services, reporting. Schedule can vary, but would be between Monday to Friday of varying shift length.
Case Types: Developmental assessment, activities and education, parent education, club foot/other foot deformity, positioning of preterm infants, car seat safety and classes, intervention for cardiorespiratory management (intubation, BiPAP, CPAP), torticollis/Plagiocephaly, Brachial Plexus injury, Oncology: brain tumors, orthopedics, cardiopulmonary rehab in pediatric population.
Possible Interprofessional opportunities at this site:
Collaborative teaching with interprofessional team members (OT, SW, Music therapist, nursing, Child Life Program specialist)
---
For information on pre-placement requirements and orientation please refer to the specific health authority listing, found here.
If you need to update your current site profile please send an email with the updated information.