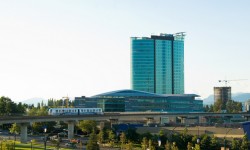 ---
Welcome message from site
Site Details
Placement Category: 
Acute
Facility Type:
Hospital
Patient population description:
Physiotherapist expertise on site (special interests, degrees, certificates, etc.):
These types of learning opportunities may be available at this site:
Student Activities: The intensive care unit provides care for critically ill patients requiring life support measures such as airway/ventilator care, renal support, advanced cardiac monitoring and drug therapies. Usual weekly schedule is 4 days on 4 days off.
Case Types: 15 bed acute ICU providing care for patients with multi system failure due to sepsis, and other advanced disease processes. It is a regional referral centre for the critically ill patient requiring dialysis (including CRRT), high frequency oscillation (HFOV), and other advanced therapies. SMH ICU is also the FH site for specialty thoracic surgery.
Possible Interprofessional opportunities at this site:
---
For information on pre-placement requirements and orientation please refer to the specific health authority listing, found here.
If you need to update your current site profile please send an email with the updated information.