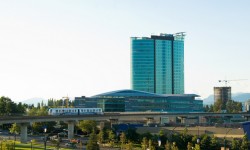 ---
Welcome message from site
Site Details
Placement Category: 
Acute
Facility Type:
Hospital
Patient population description:
Adult 19 and older, geriatric
Physiotherapist expertise on site (special interests, degrees, certificates, etc.):
These types of learning opportunities may be available at this site:
Acute. This is an environment where the selected student must have strong clinical skills. Usual weekly schedule is Monday through Friday.
Case Types: High acuity, high volume unit with patients cases including recent falls, acute exacerbation of chronic diseases, Hemodialysis, etc.
Possible Interprofessional opportunities at this site:
---
For information on pre-placement requirements and orientation please refer to the specific health authority listing, found here.
If you need to update your current site profile please send an email with the updated information.