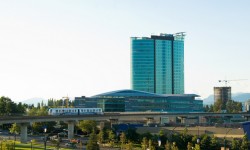 ---
Welcome message from site
Welcome to SMH.
We have a large and cohesive department with over 50 PTs and RAs. The team is very supporting and collaborative and welcome many students from both the PT programs and the OT/PTA programs as well. You may be assigned just one supervisor but all are willing to answer any questions you have.
Students become a part of the team when they are here and are encouraged to participate in the learning opportunities provided by our very dynamic Education Committee.
We have a very diverse patient population and have the busiest emergency department in Western Canada. This keeps us all very busy and ensures that students have an opportunity to work on their caseload management as well as hone their clinical and communication skills.
We embrace new grads and many of our staff are former students.
Lastly, we like to have fun and hope students will have fun with us. Come join us, you won't regret it!
Site Details
Placement Category: 
Acute
,
Chronic Disease Management
,
Community Health
,
Outpatient
,
Rehab
Facility Type:
Hospital
Patient population description:
Age range from neonate to older adult. Includes: Critical care, Cardiac Care, Thoracic and general surgery, orthopaedics, general medicine, acute care of the elderly, acute stroke unit, high intensity rehab, inpatient paediatrics and neonatal care, outpatient paediatrics including paediatric oncology.
Outpatient adults general also includes clinics at Jim Pattison and the Community Redi Clinic.
---------------------------
FYI: The Surrey Critical Care Tower will open with the new Emergency, which will be the second largest ER in the country, on October 1, 2013. The rest of the Tower will open June 1, 2014 and will consist of 26 bed ICU, 26 bed High Acuity Unit, 48 bed NICU, 36 bed Neurology unit with 22 dedicated acute stroke beds and 36 medical beds with haemodialysis capability, There will also be UBC administrative space, teaching space, UBC lecture theatre, sleep rooms and a library. The Tower will also be equipped with three satellite therapy treatment rooms."
Physiotherapist expertise on site (special interests, degrees, certificates, etc.):
- Several Bobath certified PTs.
- NDT trained PT.
- Pelvic floor/continence therapist.
- Cardiorespiratory PTs.
- Paediatric PTs.
- Hand Therapist.
- Chronic Pain PTs.
These types of learning opportunities may be available at this site:
- Learn to work with a diverse multicultural population.
- Specialised learning such as paediatrics (e.g., NICU and outpatient paediatric oncology).
- Observe surgeries.
- Observe other health care staff e.g., swallowing assessment with OT and SLP staff.
- Learn to work as part of an interdisciplinary team.
Possible Interprofessional opportunities at this site:
PT Staff work on each inpatient unit as part of an interprofessional team that includes RN, Dr, OT, SW, SLP, Pharmacist, Dietician and Rehab Assistant.
---
For information on pre-placement requirements and orientation please refer to the specific health authority listing, found here.
If you need to update your current site profile please send an email with the updated information.