Site Address:
1081 Burrard Street
Vancouver, BC V6Z 1Y6
Back to search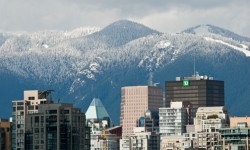 ---
Welcome message from site
St. Paul's Hospital, which is a Providence Health Care site, is an acute care, academic and research hospital located in downtown Vancouver. With over 500 acute care beds in use and home to many world-class medical and surgical programs, the hospital serves both the local community and patients from across B.C. Its downtown location brings many of Vancouver's tourists and visitors to its doors. As well, St. Paul's also has a longstanding history of providing care to disadvantaged populations.
St. Paul's Hospital is recognized provincially, nationally and internationally for a number of specialty programs and services. Some are offered nowhere else in BC. St. Paul's is designated the provincial Heart Centre, offering services ranging from prevention and rehabilitation to heart transplantation. St. Paul's is also a leader in renal care services, managing a number of dialysis units (within the hospital and in six community clinics), an early intervention kidney clinic and providing kidney transplant surgery.
St. Paul's is a teaching facility and plays a critical role in the education of physicians, nurses, physiotherapists and other health professionals and is a major health research facility
Physiotherapy staff are departmentally based and work within a program based care delivery model.
----------
Providence Health Care, which includes St. Paul's Hospital, is committed to providing an environment which fosters excellence in the delivery of patient care, in the provision of staff and student education and in the pursuit of best practice through research activities. We have a strong student program and provide practicums to approximately 100 physiotherapy and rehab assistant students on an annual basis. The staff are keen to provide positive learning and to share their extensive expertise with students. Across Providence Health Care we have opportunities for unique learning opportunities in interdisciplinary settings.
Site Details
Placement Category: 
Acute
,
Chronic Disease Management
,
Community Health
,
Outpatient
,
Rehab
Facility Type:
Hospital
Patient population description:
St. Paul's hospital has a diverse range of patient populations. Learning opportunities are available in the following areas: surgical and medical cardiac, cystic fibrosis, general surgery, palliative care, HIV/AIDS, renal, medicine, acute orthopaedic, mental health including chronic pain, intensive care, emergency care, geriatric ambulatory clinic, foot and ankle clinic, hand clinic, COPD Rehab Clinic, and general musculoskeletal outpatients.
Physiotherapist expertise on site (special interests, degrees, certificates, etc.):
St. Paul' Hospital is staffed by approximately 40 physiotherapists and rehab assistants. The department is supported by clinical experts in the areas of: respiratory, cardiac, acute and rehab musculoskeletal, acute rehab and neurolgical rehab. Additional support is provided by the the Research, Practice and Education Coordinator, the Site Physiotherapy Leader and the Professional Practice Leader. A number of the staff have clinical appointments with UBC.
These types of learning opportunities may be available at this site:
The physiotherapy staff and students are supported clinically by the Site Physiotherapy Leader, Clinical Experts and by the Research, Education and Practice Coordinator. Students are encouraged to attend in-services and other learning oppportunities.
Learning to become part of an interdisciplinary team in an integral part of the learning experience.
Therapeutic interventions are provided on both an individual and a group basis. Education of both patients and staff is also an integral part of physiotherapy practice.
Opportunities for viewing surgeries, diagnostic procedures or spending time with other disciplines is available.
Possible Interprofessional opportunities at this site:
Care is provided on an interdisciplinary manner. The care team is comprised of: Nursing, Nutritional Services, Occupational Therapy, Pastoral Care, Physicians (including general practitioners, residents, fellows, and specialists), Physiotherapy, Psychology, Respiratory Therapy, Rehab Assistants, Social Work, Speech Language Pathology as well as other service providers.
---
For information on pre-placement requirements and orientation please refer to the specific health authority listing, found here.
If you need to update your current site profile please send an email with the updated information.