Site Address:
2375 West Railway Street
Abbotsford, BC V2S 2E3
Back to search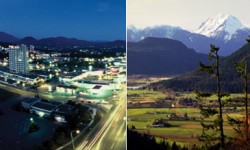 ---
Welcome message from site
Welcome to Sport & Spine Physiotherapy, partner with CBI Health Group. We are a 3,500 sq ft private practice and rehabiliation centre. We work with a variety of clients inlcuding sports injuries, motor vehicle accident and WorkSafe BC clients, long-term disability and pre- and post-surigcal conditions. We have five full-time and one part-time physiotherapist on site, as well as two kinesiologists. Speciality services include manipulative therapy, manual therapy, sports rehab, IMS, OR1-P services and return to work support services. We welcome students to our busy, multidisciplinary clinic and will ensure you get to see a little bit of "everything."
CBI Health Group is one of Canada's premier providers of quality Health Care and Rehabilitation Services. Since 1974, CBI has pioneered the development of active health care and rehabilitation solutions and continues to expand both the scope of our services and locations for service delivery. Our network of CBI Health Centres, Sports Injury clinics, OT Services and other affiliated clinics has grown to over 150 strategic locations from coast to coast. CBI Health Group has been recognized as a 50 Best Managed Company for five consecutive years and was recently selected as one of Canada's 10 Most Admired Corporate Cultures.
Site Details
Placement Category: 
Outpatient
Facility Type:
Private Practice
Patient population description:
Sport & Spine services include patients who receive manipulative therapy, sports rehab, IMS, post-partum rehab, motor vehicle accident rehab, WorkSafe BC rehab - both acute, chronic and OR1-P rehab, third party insurance rehabilitation, pre and port surgical rehab, home visits and functional evaluations.
Physiotherapist expertise on site (special interests, degrees, certificates, etc.):
Two Part B therapists, two Part A therapists, three Gunn IMS certified therapists, two sports diploma certified therapists. Therapist experience ranges from 5 to 25 years.
These types of learning opportunities may be available at this site:
Manual therapy, IMS, Sports Rehab, General conditioning - acute, sub-acute and chronic for all types of clients.
Possible Interprofessional opportunities at this site:
Return to work planning, OR1-P services, ergonomic assessments and job site visits.
---
For information on pre-placement requirements and orientation please refer to the specific health authority listing, found here.
If you need to update your current site profile please send an email with the updated information.