Site Address:
570 Pine Avenue
Sparwood, BC V0B 2G0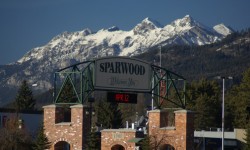 ---
Welcome message from site
Sparwood is a small mining town in the heart of the Elk Valley on the easternmost edge of BC. We are 20 minutes away from arguably the best skiing and powder country in BC. Summer boasts excellent opportunities to mountain bike, hike and camp.
Our small Healthcare Centre provides medical, diagnostic, wellness, physiotherapy, and dialysis services to a wide variety of clientelle.
Site Details
Placement Category: 
Facility Type:
Patient population description:
The main caseload is older adults but the clinic is accessible to all ages. Outpatient orthopaedics, mostly post-surgical, post-fracture, hand injuries, occasional stroke, head injury, cardioresp.
Physiotherapist expertise on site (special interests, degrees, certificates, etc.):
FCAMPT
These types of learning opportunities may be available at this site:
Availability of observing and/or participating in a chronic disease management program.
Possible Interprofessional opportunities at this site:
Medical clinic/Doctors are on site.
---
For information on pre-placement requirements and orientation please refer to the specific health authority listing, found here.
If you need to update your current site profile please send an email with the updated information.