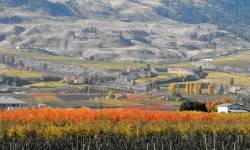 ---
Welcome message from site
Our team is very experienced and dynamic. Keep up to date on best practise. We are a cohesive group of therapists who work well together and look forward to having students at our site.
Our community is the wine capital of Canada in the heart of the sunny Okanagan, with music events, arts and crafts and access to great recreational activities which include hiking, biking, watersports, and snow sports. Come join us and experience B.C.'s best place to live and work.
Site Details
Placement Category: 
Acute
,
Outpatient
Facility Type:
Hospital
Patient population description:
Oliver is a retirement community with most patients being geriatric. However being a rural comunity there is broad spectrum of clients and conditions.
Physiotherapist expertise on site (special interests, degrees, certificates, etc.):
Members of our team have been working many years and are experienced in many areas including orthopaedics/Level 3, neurology/bobath,vestibular rehab, cardiorespiratory, geriatric and community home care.
These types of learning opportunities may be available at this site:
Our Doctors have educations sessions weekly and our acute care team also has weekly education sessions.
Possible Interprofessional opportunities at this site:
We have one part time OT in acute/community and one partime OT in residential. We also have a speech therapist one day/week. A surgeon does CTS/dupytrens surgery 1day/week. We can arrange for the student to observe surgery at Penticton Regional Hospital also.
We have an efficient, effective interdisciplinary d/c planning team. The advantage of a small site is it promotes a collaborative team approach spanning acute, community and residential.
---
For information on pre-placement requirements and orientation please refer to the specific health authority listing, found here.
If you need to update your current site profile please send an email with the updated information.