Site Address:
Box 520
601 - 10th Street NE
Salmon Arm, BC V1E 4N6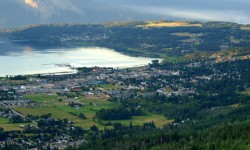 ---
Welcome message from site
Welcome to Salmon Arm. Shuswap Lake Hospital is a small 40-bed acute care hospital. We work as a team which includes PT, OT, RA, Social work, SLP and Dieticians. Our acute care caseload is quite varied which allows for a great learning environment. There is the possibility to see many types of patients including: Respiratory - medical and post-op, neurology - especially acute CVAs, general orthopedics - hip fractures, joint replacements, multiple trauma and general debility.
Salmon Arm offers great recreational opportunities from hiking, mountain biking, to general walking trails. We also have an active arts program.
Site Details
Placement Category: 
Facility Type:
Patient population description:
Our population is primarily adult.
Physiotherapist expertise on site (special interests, degrees, certificates, etc.):
We have a full staff of experienced physiotherapists many whom have taken advanced courses in stroke rehab, vestibular rehab, and orthopedics.
These types of learning opportunities may be available at this site:
We offer lunch-time inservices for our physiotherapists. In addition, during the placement the student will have an opportunity to observe our other rehab areas (e.g., community care, residential care).
Possible Interprofessional opportunities at this site:
The student will have the opportunity to work with a team consisting of PT, OT and Rehab Assistant.
---
For information on pre-placement requirements and orientation please refer to the specific health authority listing, found here.
If you need to update your current site profile please send an email with the updated information.