City/Town:
Comox Valley
Site Address:
Student Services
2345 Mission Road
Courtenay, BC V9N 9H1
Back to search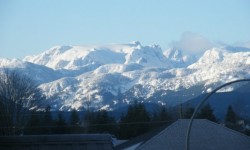 ---
Welcome message from site
Hello Students! I normally share a student with the Comox Vallley Child Development Association. With this arrangement you are with me half time. Plus you are able to see children from birth all the way through to adulthood. Because we serve our population in any of the public schools in the Comox Valley, I have put a picture of the Comox Glacier as our facility picture.
Site Details
Placement Category: 
Outpatient
Facility Type:
School District
Patient population description:
Physiotherapist expertise on site (special interests, degrees, certificates, etc.):
I am sole charge. I have practiced in paediatrics for 15 years including time at a tertiary children's hospital, a child development centre and now a school district.
These types of learning opportunities may be available at this site:
The students you will work with have lifelong challenges. Most of the diagnoses are neurological or are the orthopedic complications of a neurological condition. In addition to providing service in various schools, we provide physio at the local pool and the local therapeutic riding barn.
Possible Interprofessional opportunities at this site:
We have SLPs, an OT, a teacher of the blind and visually impaired, a teacher of the deaf and hearing impaired, etc.
---
For information on pre-placement requirements and orientation please refer to the specific health authority listing, found here.
If you need to update your current site profile please send an email with the updated information.