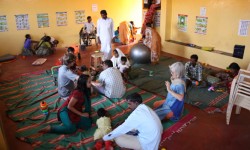 ---
Welcome message from site
Hilary Crowley, 2013 Enid Graham Memorial Award winner, has been working with Samuha since 1994. This not-for-profit organization works to improve the quality of life of people with disabilities in the state of Karnataka, India. The organization itself has a diversity of sectors, from vocational training for people with spinal cord injury to Early Intervention Centers for children
with disabilities. Each year (in January) Hilary accompanies students from UBC and Queens on placements. Hilary she coordinates andd supervises students in three different settings: the Early Intervention Center; home visits to children with disabilities; and the new Spinal Cord Injury Rehabilitation Center, the only one in the Karnataka.
From Hilary:
Accommodation and spicy vegetarian meals supplied on site by Samuha. Each student works closely with an assigned local community-based rehabilitation worker. This person also acts as interpreter between student and family and takes student to village by motorbike. Simple basic living conditions with sporadic power supply. Supervisor also lives on site and is always available. There is an orthotic workshop on site. Placement is for 2 to 4 students. Each student prepares an identified education topic to help advance the skills of the CBR team. We work 6-day weeks and irregular hours. Every effort is made to provide a full week-end off during the placement. The project is a few kms outside the town of Koppal. The area is dry, rural and dusty.
Site Details
Placement Category: 
Outpatient
,
Rehab
Facility Type:
Community Agency
,
Not-for-Profit society
,
Rehabilitation Centre
Patient population description:
People with all disabilities. 72% paediatric.
Physiotherapist expertise on site (special interests, degrees, certificates, etc.):
No PT on site except for Hilary Crowley. The rest of the staff are community-based rehabilitation workers.
These types of learning opportunities may be available at this site:
Assessing SCI clients and designing personal exercise programs and vocational training; paediatric skills; exposure to a variety of other disabilities.
Possible Interprofessional opportunities at this site:
Work with team of disability workers, orthotic technician, learn from visual impairment specialists and communication workers. Also visiting psychiatrist and orthopedic surgeon.
---
For information on pre-placement requirements and orientation please refer to the specific health authority listing, found here.
If you need to update your current site profile please send an email with the updated information.