City/Town:
New Westminster
Site Address:
330 East Columbia Street
New Westminster, BC V3L 3W7
Back to search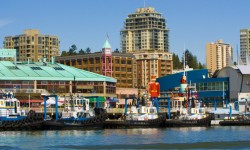 ---
Welcome message from site
RCH wears many hats as it is the region's tertiary Trauma site and the only Fraser Health hospital that does Open-heart surgery and Neuro surgery. At the same time we are the community hospital for the residents of New Westminster. This allows our department of 25 Physiotherapists and 9 Rehab Assistants to provide a large variety of student placements involving varied patient populations with a strong focus on teamwork and education.
RCH has been taking UBC students for over 30 years and we consistently hire new grads every year.
Our location is central to the activities of the Lower Mainland and the Sapperton Skytrain station is right at our door, making transportation a breeze.
Site Details
Placement Category: 
Acute
,
Chronic Disease Management
Facility Type:
Hospital
Patient population description:
We offer a wide variety of inpatient acute populations:
- Medicine, including medical clinical teaching unit (med students and residents) and an acute stroke cohort.
- General and vascular surgery.
- Orthopaedics - mostly multi-trauma.
- Neurosciences and neurosurgery.
- Cardiac surgery - open hearts.
- Critical care.
- Emergency
- Neonatal Intensive Care Unit.
- Inpatient mental health/geriatrics.
Physiotherapist expertise on site (special interests, degrees, certificates, etc.):
We have the clinical expertise to treat the listed patient populations. One-third of our staff remain with their patient population and the other two-thirds rotate to gain experience in all areas.
These types of learning opportunities may be available at this site:
Ward rounds.
Grand rounds.
Department inservices.
Surgery observation.
Observation of other patient populations.
Possible Interprofessional opportunities at this site:
Our patient units allow students to interact with the spectrum of health care providers. As a teaching hospital RCH always has students from other professions working on the wards. Our rehab team also educates students from OT, RA, and SLP schools.
---
For information on pre-placement requirements and orientation please refer to the specific health authority listing, found here.
If you need to update your current site profile please send an email with the updated information.