Site Address:
Suite 204, 555 Victoria Road
Revelstoke, BC V0E 2S0
Back to search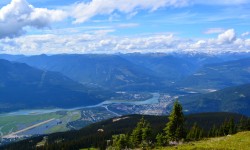 ---
Welcome message from site
Thank you for considering a placement at Red Cedar Physiotherapy. The supervising physiotherapist works part-time at Red Cedar Physiotherapy and part-time in the Outpatients Department at Queen Victoria Hospital. This combination has been appreciated by students in the past and has worked really well to give students a glimpse into private and public orthopedic practice.
We have four physiotherapists on staff at Red Cedar Physiotherapy. We pride ourselves in providing quality, 1:1 assessments and treatment with an emphasis on evidence-based rehabilitation.
Revelstoke is a WONDERFUL community with a wealth of outdoor activities in any season!
Site Details
Placement Category: 
Outpatient
Facility Type:
Private Practice
Patient population description:
Mixed caseload from children to elderly.
WSBC/ICBC.
Predominately adult MSK.
Physiotherapist expertise on site (special interests, degrees, certificates, etc.):
Over 25 years of clinical experience.
Enthusiastic participation in continuing education in the fields of orthopedics, sports injuries, pain science, neurodynamics, women's health, vestibular rehabilitation.
These types of learning opportunities may be available at this site:
See above, plus opportunities to shadow other physiotherapists at the site in IMS, acupuncture, and small group pilates/yoga classes.
Possible Interprofessional opportunities at this site:
Not at Red Cedar Physiotherapy but with combined placement at Queen Victoria Hospital, there could be opportunities to work with an OT Rehab Assistant.
---
For information on pre-placement requirements and orientation please refer to the specific health authority listing, found here.
If you need to update your current site profile please send an email with the updated information.