Site Address:
1200 Newlands Road
Revelstoke, British Columbia V0E 2S0
Back to search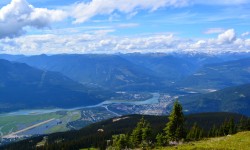 ---
Welcome message from site
Queen Victoria Hospital is the hub for medical services within the community. Our experienced Physiotherapy staff has a unique opportunity to deliver services across the care spectrum in Acute Care, Residential Care, Community, Assisted Living and Out-Patient Services.
Revelstoke is all about Location! Location! Location! A four-season adventure land with endless recreational pursuits outside your door including biking, hiking, skiing, kayaking….the list is endless. Revelstoke also has an exciting Arts Community with local theatre, live music venues, a year round farmers market and fabulous eateries.
Please note: Due to the diverse nature of our student learning experience, we can only accept Level 3 student placements.
Site Details
Placement Category: 
Community Health
Facility Type:
Hospital
Patient population description:
48 beds residential
10 acute in-patient beds
Catchment area is population of about 10,000
Physiotherapist expertise on site (special interests, degrees, certificates, etc.):
Hand rehabilitation
Pelvic floor rehabilitation
Manual Therapy
Vestibular Rehab
These types of learning opportunities may be available at this site:
A visiting Orthopedic Specialist attends regularly, so a student is able to spend time in the Orthopedic Clinic.
Possible Interprofessional opportunities at this site:
Students would work closely with Home and Community Care Nurses, Care Aides and Rehab Assistants.
---
For information on pre-placement requirements and orientation please refer to the specific health authority listing, found here.
If you need to update your current site profile please send an email with the updated information.