Site Address:
14340 64 Avenue
Surrey, BC V3W 1Z1
Canada
Back to search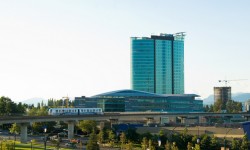 ---
Welcome message from site
Pulse Physiotherapy is a modernized Sport and Massage Clinic that strives to have a meaningful impact on its patients and the community. Our group is young and vibrant, creating a relaxed and welcoming environment for everyone in the clinic.
This is a great place to learn how to build your skills as a physiotherapist, especially if you see yourself working in a private practice setting.
You will learn and fine tune your MSK skills, while also gaining insight on the side of private practice that you can't gain in the classroom: ICBC, WSBC patients, etc.
Site Details
Placement Category: 
Outpatient
Facility Type:
Private Practice
Patient population description:
Mixed MSK patient population with varying ages and backgrounds
Post-surgical patients
ICBC and WSBC cases (~20-30% of our caseloads)
Official clinic for local soccer clubs and high school sports teams, so many athletes
Physiotherapist expertise on site (special interests, degrees, certificates, etc.):
All physiotherapists have taken continuing education and some have completed courses within the Orthopaedic Division, IMS, acupuncture, exercise prescription and sports taping.
These types of learning opportunities may be available at this site:
All of our physiotherapists utilize and can help mentor in manual therapy, taping, exercise prescription, application of modalities, patient education, observation of IMS, acupuncture, etc.
Students also have the opportunity to take on a case load to the best of their ability, with independence but always having the Clinical Educator near for support.
Students may have the opportunity to provide a presentation to the therapists on a topic of their choice to improve their literature review and best practice techniques.
Possible Interprofessional opportunities at this site:
Our clinic has a close relationship with our neighbouring medical clinic, pharmacy, optometrists and dentists. We have great communication and a referral base with each other.
We also have multiple Registered Massage Therapists working within the clinic. The student will get an opportunity to share patients with the RMTs.
---
For information on pre-placement requirements and orientation please refer to the specific health authority listing, found here.
If you need to update your current site profile please send an email with the updated information.