Site Address:
425 Columbia Street
Kamloops, BC V2C 2T4
Back to search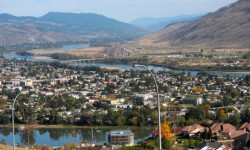 ---
Welcome message from site
Kamloops is centrally located in the BC interior, with easy access to Vancouver, Kelowna and all stops in between. Kamloops is known as "The Tournament Capital," as the city offers a wide variety of summer and winter sports. Our city is large enough to offer all the amenities of a larger centre, but small enough to make it easy to get around. There is a world of recreation right at your doorstep, including hiking, skiing, snowboarding, kayaking, golfing and swimming. You can also enjoy live theatre or "Music in the Park" during the summer months. Come enjoy with us!
Site Details
Placement Category: 
Rehab
Facility Type:
Other
Patient population description:
Complex care with a variety of diagnoses at various stages in their rehabilitation. The facility supports several programs including 68 Pathway to Home beds (PTH - consisting of convalescent, Respite, Palliative Care) and 68 First Available Beds (FAB - those clients waiting for a residential bed).
Physiotherapist expertise on site (special interests, degrees, certificates, etc.):
Ponderosa has two F/T Physiotherapists and one P/T therapist who works one day/wk. The P/T therapist covers the FAB residents with support from one Rehab Assistant. The two F/T therapists cover the remainder of the beds with support from four Rehab Assistants who work seven days a week. The rehab team is completed with two OTs.
These types of learning opportunities may be available at this site:
Students are able to attend regular in-services at the hospital, which is right next door!
Possible Interprofessional opportunities at this site:
Ponderosa therapists work in a multidisciplinary team consisting of nursing, PT, OT, social workers, dietitians, physicians and pharmacists together with the client and their families. There are many opportunities to expand your knowledge base in other fields.
---
For information on pre-placement requirements and orientation please refer to the specific health authority listing, found here.
If you need to update your current site profile please send an email with the updated information.