Site Address:
Unit 220 - 5620 - 152 Street
Surrey, BC V3S 3K2
Back to search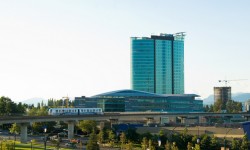 ---
Welcome message from site
We welcome MPT students at Physiomoves Physiotherapy Clinic. We really enjoy teaching students, giving back to our profession, and learning from the students themselves!
Site Details
Placement Category: 
Outpatient
Facility Type:
Private Practice
Patient population description:
Mixed orthopaedic/sports population. Age ranges from young children to older adults.
Approximately 20% WorksafeBC patients, 20% ICBC patients, and 80% private patients.
Patients from a variety of sports clubs (e.g., soccer, hockey, and baseball).
Physiotherapist expertise on site (special interests, degrees, certificates, etc.):
- Physiotherapists with a wide range of manual therapy skilss/levels
- Physiotherapists with K-taping and athletic taping expertise
- Physiotherapists with Acupuncture and IMS certifcation
- Physiotherapist with a Sports Diploma
- Physiotherapists with training in Vestbular Rehab
- Physiotherapists with Pre/Post Partum rehab & Incontinence certification
- Physiotherapist with Bike Fitting certification
- Physiotherapists with FMS/SFMA certification
- Physiotherapist with training in Clinical Pilates
- Registered Massage Therapist with wide range of skills
These types of learning opportunities may be available at this site:
Many opportunities to improve sports/orthopaedic assessment and treatment skills (e.g., manual therapy, taping, exercise prescription, application of modalities, patient education, observation of IMS, acupuncture, bike fitting, etc).
Opportunity to provide clinic inservice on topic that is of interest to the student and supervising therapist(s).
Possible Interprofessional opportunities at this site:
Potential collaboration with a sports massage therapist.
---
For information on pre-placement requirements and orientation please refer to the specific health authority listing, found here.
If you need to update your current site profile please send an email with the updated information.